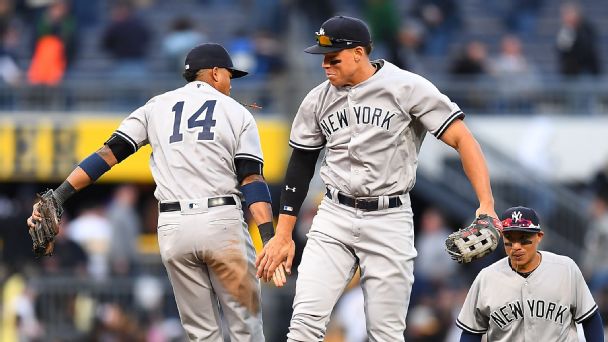 I think someone forgot to tell the New York Yankees players that they were supposed to have a down season this year and next before buying out the free agency market en route to a World Series victory in 2019. Whoops. The Yankees have been great thus far this season, yes I know it's early, and that's due in large part to a total team effort from the club. There were a few standouts that deserve some recognition though so here are a few of the Yankees best players from the month of April. If I omitted someone leave them and their case below in the comments section.
Many thought the season was over, at least temporarily, when Gary Sanchez went down but Austin Romine has really surprised a lot of people. Through his first 42 plate appearances this season Romine has posted a .840 OPS, which is up from his career .586 OPS in the Major Leagues, while calling great games behind the dish and flashing good defense and a strong throwing arm. He won't win an MVP Award or anything like that but he has been severely underrated in the absence of Sanchez much like our next "best" from the month.
Ronald Torreyes is among the Yankees leaders in RBI this season. No that is not a typo and no Sheldon that is not sarcasm. Torreyes has always brought a solid defensive glove with him to the ballpark but the emergence of his bat, albeit in a small sample size, has kept the Yankees afloat while the Yankees shortstop Didi Gregorius has been injured. Welcome back Didi.
Aaron Hicks is really putting the pressure on the Yankees outfielders, specifically Brett Gardner and Jacoby Ellsbury, and Aaron Judge has been brilliant thus far this season. The two Aaron's are hitting the ball over the fence with a great consistency and they are both drawing walks at an elevated rate, although Hicks is walking a lot more than Judge is to be fair.
Luis Severino, who we already spoke about this morning so I won't spend too much time here, has been great in his last three starts and has gotten better and better with every start this month. The more arm strength he build and the more confidence he gains the better he, and the Yankees, will be going forward.
The final "best" from the month of April is surprisingly Chase Headley. After going from Chase Headley to "Chase Headley Sucks" in 2016 the Yankees third baseman has seemingly turned around his Yankees tenure with a great month of April this season. Some have even called Headley the Yankees best player when you mix in his impressive plate appearances and strong defense although I think that may be a stretch. Either way you ride his success all the way to the Promised Land.