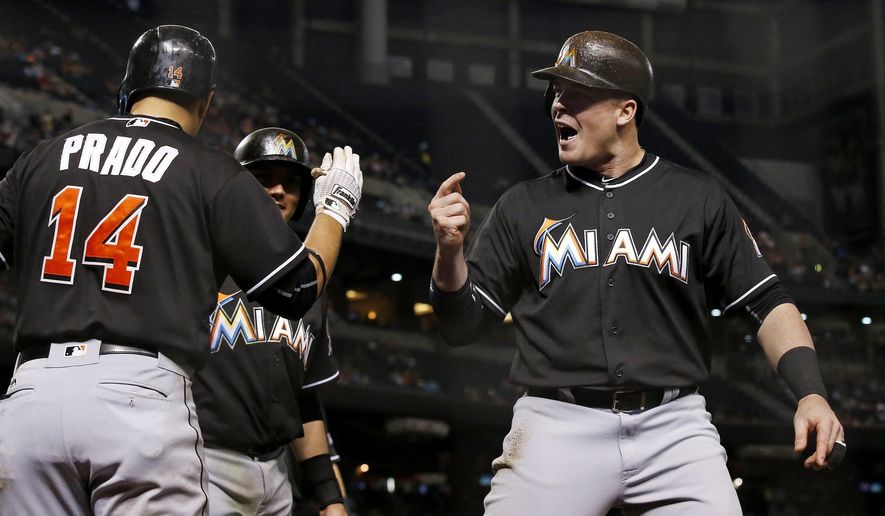 Earlier this week The Greedy Pinstripes declared the Miami Marlins open for trades and even went as far as to predict a fire sale by the team in South Florida. Now I personally don't have any inside information or sources that will back that up, although I have a sneaking suspicion that many of the "insiders" that claim to have those sources really don't either to be honest, but instead of relying on click baits, false information and "sources" I personally prefer to rely on history as an indicator and common sense when laying out my plans and posts here on the blog. When the team traded shortstop Adeiny Hechavarria to the Tampa Bay Rays in a weak National League East Division I knew more was to come and that "more" may include a Martin Prado reunion back in the Bronx.
According to reports that are circulating online the New York Yankees and the Miami Marlins are at least discussing and kicking the tires on a potential trade that would bring the third baseman and utility player back to the Bronx after the Yankees traded him three seasons back along with David Phelps for Nathan Eovaldi, Garrett Jones and prospects. For what it's worth that same report stated that the Boston Red Sox have also called Miami to talk about Prado which could create an expensive bidding war between the two teams. It is also worth mentioning that the Yankees asked about first baseman Justin Bour as well although Bour doesn't exactly make me want to jump up and down and do a happy dance at the thought of his acquisition, I'm just saying.
Through Prado's first 83 at-bats this season the 33-year old is hitting .277 although the sample size is down due to the righty missing time with a hamstring injury. Prado hit .305/.359/.417 over 153 games for the Marlins in 2016 though and brings with him about 14 defensive gloves, a slight exaggeration but probably not by much, and an absolute ton of defensive versatility. Prado has played every position during his 12-year MLB career with the exception of center field and catcher, I think the Yankees have those two positions handled pretty well thankfully.
Bour, although I did state earlier that acquiring him doesn't give me the biggest warm and fuzzy feeling, is having the best season of his young MLB career in 2017 hitting .298 with a .365 on-base percentage, 18 home runs and 50 RBI. Those numbers are great but Bour is a left-handed hitter, which makes having both him and Greg Bird on the same team a bit redundant to me, and has three-plus seasons of team control left making him potentially expensive. If Bour had more than 258 games of experience to base the decision off of, and around 70 games of experience this season where he is hitting so well, the decision may be a bit easier for New York but as it stands now there seems to be more questions than answers at this point.
This trade, like all trades, will come down to the price tag for the Yankees. Acquiring Prado and his two-years and $28 million will likely keep the price tag down for New York but Bour won't reach free agency until the 2021 season. Not only would Bour block Greg Bird or potentially take at-bats away from him but I also can't see Miami simply giving him away with that much team control left. Having Bour's left-handed swing inside Yankee Stadium, yes I know every left-handed swing is just "made" for Yankee Stadium, and in the middle of the Yankees lineup would be a huge upgrade over what the team has gotten from first base though, I admit that, but at what cost? What does the team do with both Bour and Bird when Bird returns healthy in 2016 and beyond? Again, I go back to the word "redundant."
Whatever the Yankees and their GM Brian Cashman do remains to be seen but it seems like we once again have proof that those guys are reading what I write. I suggest going after Prado, they go after Prado a couple days later. I suggest starting to look at the July 31st trading deadline and potential acquisitions early and here we are a month almost to the day in advance talking about New York already having discussions with other teams. They read me dammit, they really do! That may or may not be sarcasm, only time will tell.
Stay tuned and Happy Friday!