I kind of chuckled about a week back when I was reading the comments section on the blog and I saw a comment by a fellow writer here on the blog, Scott Fiedler, who said "Daniel is going to yield to pressure and re-name the blog The Complacent Pinstripes." Obviously, his comment was very tongue-in-cheek, and I literally laughed out loud when I read it but the more this slow and weird offseason goes on the more I think that may actually be the best plan, at least for now. The Yankees made the big splash this offseason already acquiring Giancarlo Stanton and the team doesn't NEED to make another. Sure, another would be great. I'd take Yu Darvish at or around five-years and $86 million, whether that's a reality or not I am not sure, but it is a number I saw on Twitter a few times over the weekend, and I'd take a Mike Moustakas on a one-year "pillow" contract, but at the same time I'd be just as happy and comfortable heading into the season "as-is." I expect Yankees GM Brian Cashman to add at least a veteran infielder option on a minor league deal that could compete for a job in spring alongside Gleyber Torres, Ronald Torreyes, Miguel Andujar and Tyler Wade to name a few but other than that I think the heavy lifting for the Yankees is over. Honestly, that's okay because I have a new plan and it goes along with becoming the Complacent Pinstripes. At least for now.
The Yankees ultimate plan this offseason is not only to compete with their young and hungry core of players but to also get under the $197 million luxury tax threshold in order to reset their tax penalties on their payroll. The way you do that is you bring in young and cost-effective players like New York has at key positions while filling in the cracks with veterans. What many do not understand, or may not want to anyway, is that the team needs money and wiggle room throughout the season as well and not just here in January. The team needs money to add pieces potentially at the July 31st trading deadline and they can't, and shouldn't frankly, rely on moving dead contracts like Jacoby Ellsbury to help accommodate. They can't, it is potentially disastrous and not entirely feasible in my opinion because a lot can happen between now and July 31st, 2018. Instead of expending all their ammunition now in terms of dollars and prospects I think New York should simply head into camp with what they have and play to be a second-half team. That isn't to say the team cannot be great in the first half, I truly think they will be as they stand today, but I am saying that the team should be playing for that second half run that propels so many teams into the postseason and the World Series.
While the free agent market is stagnant, and the trade market is almost non-existent until some of these big names come off the board I find it imperative that the Yankees simply head into camp and wait until June or July before they do more heavy lifting. Obviously, Brian Cashman should be doing his due diligence and if the right deal for New York comes along, you make it. If the deal isn't on the Yankees terms though I think the team should stand pat and wait for the trade deadline. Looking across the league at potential "bad" teams who don't look like they will compete in 2018 and their depth charts there should be plenty of options for New York before the deadline if they so choose to make a big splash.
I am going to purposely ignore the American League East because I don't believe any of the Boston Red Sox, Toronto Blue Jays, Baltimore Orioles or the Tampa Bay Rays will deal within the division, especially to the Yankees, regardless of their win/loss record and regardless of whether the best deal would come from New York. Sorry Yankees fans, no Chris Archer in July. No Manny Machado either. No Marcus Stroman and no Andrew Benintendi (Get Greedy!!) either. In their places though I could see the following players potentially being available at the deadline. Keep in mind that I tried to include areas of need for the Yankees only leaving this as a Yankees-specific shopping list and not a complete list for the entire league.
Detroit Tigers:
Every conversation for the foreseeable future between the New York Yankees and the Detroit Tigers will begin and end with right-handed starter Michael Fulmer. Fulmer is an amazing talent that is pre-arbitration eligible, also known as expensive when it comes to the trade market. The Yankees have been rumored to be interested in Fulmer and you have to think Cashman did his due diligence and at least checked in with their GM to gauge a cost and their interest in moving the RHP. If the Tigers are as bad as many people expect this season Cashman may be able to rehash those conversations come this July.
Kansas City Royals:
Every team wants or needs more starting pitching at the deadline and if the Royals are out of it then they have a nice piece they could move in Danny Duffy. Duffy, a left-handed starter, has three years of team control beyond the 2018 season worth a shade over $15 million annually so it may be unlikely that he is moved, but you never know. The window to win in Kansas City is either closed or really close to it so the Royals may want to use Duffy to jumpstart the rebuild.
I can't see much else being moved that the Yankees would be interested in unfortunately, so it may be Duffy or bust for the Bombers.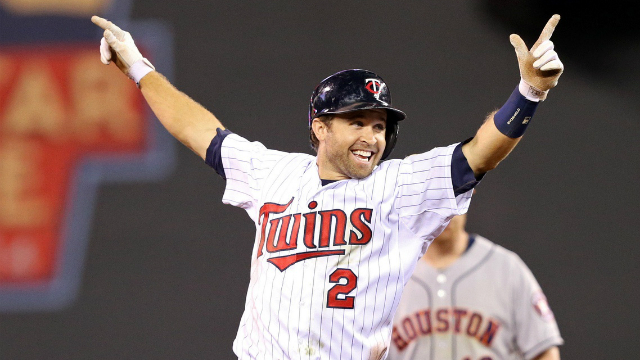 "I'll finally be able to win a playoff series!"
Minnesota Twins:
Brian Dozier could be moved if Minnesota falls out of contention with just one year and $9 million remaining on his contract with roughly half of that being pro-rated and paid by the Minnesota Twins at the time of the deadline. Dozier plays a solid second base and would be a great veteran addition for the Yankees if Gleyber Torres is deemed not ready at second or if Torres has to shift over to third base for a struggling Miguel Andujar.
Miguel Sano may be a bit of a stretch to be moved but after the sexual harassment allegations this offseason and the plethora of injuries during the 2017 season with Minnesota, you never know. The Twins may just want out from under this headache and try to use him to kickstart a rebuild. Sano is not arbitration eligible until next offseason, so it is unlikely that the Twins would deal a cost-effective star before his arbitration begins, but again… it's Minnesota. Look at what they did last July 31st trading deadline when the team was still in contention.
You never know what next season will bring with Greg Bird in New York, so it may be wise to have a backup plan in your pocket for the first base position if you're the Yankees. Enter Joe Mauer, the face of the Minnesota Twins. Mauer, like Dozier, has just one-year left on his deal that will pay him $23 million so you would think if the Twins were not competing that they would at least be willing to listen to offers for Mauer and his roughly $12 million remaining on his contract. But this is a moot point because Greg Bird is going to play 150+ games and hit 37 home runs, right?
Sorry, Yankees fans. No Ervin Santana and no Jose Berrios. Minnesota will build around these guys.
Chicago White Sox:
No, Yankees fans. We aren't going to get Yoan Moncada. That ship has sailed unfortunately but I am not entirely sold on the fact that Chicago won't once again be moving some pieces at this season's July 31st trading deadline. Matt Davidson would be nice, although he was the whole reason why the Yankees acquired Todd Frazier in the deal that also brought David Robertson and Tommy Kahnle to the Bronx, and Jose Abreu would be better if something were to happen to Greg Bird but honestly, I don't see these two teams matching up very well. If I were to take a wild guess and a stab at one potential target for New York, because you can never have enough pitching, I go to the current White Sox closer Joakim Soria. Soria is on a one-year deal worth $9 million in 2018 with a team option for $10 million in 2019 that may or may not be attractive to the Yankees with the potential losses of David Robertson, Dellin Betances and others after this season.
Los Angeles Angels of Anaheim:
The Angels added a lot this offseason including Shohei Otani, but what if it is all for nothing? What if the team once again cannot keep up with the Houston Astros and the rest of the pack in the American League Wild Card chase? You have to think they would start selling pieces and possibly the biggest piece they have to sell is RHP Garrett Richards. Richards is one of the most dominant pitchers you will find around the league, which is a great reason for Los Angeles to hang on to him, but the problem the Angels likely face is whether they trust the fact that he is healthy. Richards has spent a ton of time in his short MLB career on the disabled list with various elbow, knee and arm injuries and is in the final year of his deal with the Angels making just $7.3 million. If Richards were to be healthy and the Angels were to be out of it the Los Angeles RHP could be a huge rental addition for a team marching towards the World Series.
Even if the team struggles you have to think players like Justin Upton, Zack Cozart and Ian Kinsler are there for the long haul after signing deals just this winter. Shohei Otani obviously isn't going anywhere and neither is Mike Trout leaving the Yankees just one more target to possibly acquire if things were to go back out on the left coast, Matt Shoemaker. Shoemaker will not make or break a pennant chase, but he could add some solid innings to a starting staff that is loaded down with question marks. The Angels may be willing to unload him for cheap, especially if the team is struggling, because of the young and emerging pitching currently on their staff like Parker Bridwell, Andrew Heaney, and Tyler Skaggs. Shoemaker definitely wouldn't be a Plan A for the Yankees if the team needed starting pitching help at the deadline, but he wouldn't be a Plan Z for me either.
Seattle Mariners:
Before we even get into this I don't care how much the Yankees need a second baseman, no Robinson Cano. No. Bridge burnt, that's why his beard looks like that. Now that I got that out of my system we can move on. Thanks for understanding.
If the Mariners were to struggle I cannot see them parting with many of their positional players, especially Kyle Seager, but they may want to unload a starter or two including James Paxton and Felix Hernandez. How long have Yankees fans yearned to see King Felix in the Bronx? Even as he has seemingly taken a step back in recent years due to injury I have to admit if the price were right I would still welcome Felix Hernandez to the Bronx with open arms.
The real prize would be Paxton though, a left-handed pitcher that the Yankees have coveted for some time according to trade rumors in recent seasons. Paxton is 29-years old and would come with a year-and-a-half of team control by the time the July 31st trade deadline comes about this season. Paxton posted an impressive 12-5 record with a 2.98 ERA last season and would fit well in with the Yankees starters if acquired. The Mariners are unlikely to go full rebuild with all the veterans on the team, Cano and Nelson Cruz the most notable, but the team may need to trade from a position of strength to fill in the gaps if the team was either struggling or looking to get over the hump. Obviously if the team is close then Paxton isn't going anywhere but with the Mariners GM you truly never know. I mean, look at the deal he gave Robinson Cano for crying out loud.
Texas Rangers:
Would Cole Hamels finally bite the bullet and come to New York if his Texas Rangers were unable to keep up in the American League West Division? You would have to think that yes, maybe he would at this point in his career at age-34. Hamels is set to hit free agency after the season if the Rangers do not pick up a hefty $20 million option for the 2019 season after putting $23.5 million in the bank for the 2018 season. Texas would presumably have to eat some of that in order to facilitate a trade if the Yankees are still serious about getting under the luxury tax threshold, and they will be, but if Texas wants to move him and Hamels wants a shot at a ring a wrong could finally be righted bringing the lefty to the Bronx.
It may be out of the realm of possibilities but if the Rangers decide to go full-sell mode the team could also dangle third base veteran Adrian Beltre out there as well. Beltre has just one more year left on his deal worth $18 million before testing free agency at age 39 or retirement. You have to think Beltre would want a chance at a World Series championship if the opportunity presented itself and you would have to think that the Yankees would want a veteran presence and bat with them as well, unless of course Miguel Andujar is just producing well above what is expected.
Oakland Athletics:
Do the Oakland A's have another Sonny Gray to send the Yankees before the trading deadline in 2018? The depth chart suggests not as the young Oakland Athletics continue their rebuild out by the Bay. The Yankees and Athletics don't appear to be a good matchup for a trade on paper with maybe Jed Lowrie being the only possibility for these two clubs to make a deal. Lowrie is a veteran second baseman who can also play third base and shortstop if needed, hello versatility. Lowrie is a switch hitter with pop, which is evident by his 12 home runs last season while playing his home games inside the spacious Oakland Coliseum, that could provide a boost for the Yankees if either Miguel Andujar or Gleyber Torres are not living up to expectations right away in a pennant race.