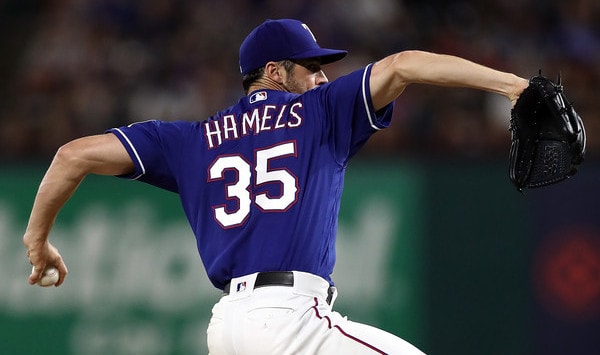 Let's have a little fun today, shall we? It's Thursday, it is almost the weekend, and why not. Let's assume that the New York Yankees acquire Cole Hamels in a midsummer trade much like the team acquired Sonny Gray before the trade deadline in 2017, would Cole Hamels be the best #35 in the Yankees history?
Well first and foremost, no. Hamels could be here in the Bronx for a couple months and be gone by November. No one knows what the future will hold, but before we send too much time speculating let's look at some of the other notable players to wear the #35 in New York Yankees history.
Michael Pineda wore the number from 2014-2017. One pine tar scandal and a few shoulder and elbow injuries later and Pineda is currently wearing the number in Minnesota. I think. Who can really keep up with that the Twins are doing these days?
Brendan Ryan wore it in 2013. David Aardsma wore it in 2012. Meh and meh. Mike Mussina wore the number from 2001 – 2008 though and will likely go down as the greatest player in the Yankees history to wear #35. Mussina won a lot of games here including 20 games, finally, in 2008 alone.
Hideki Irabu was called a fat toad by George Steinbrenner while wearing #35 in 1997, John Wetteland won a World Series ring wearing the number in 1996 and went to the postseason as the first Wild Card winner in the American League in 1995, Phil Niekro wore the number in 1984 and 1985, and even a guy by name of Yogi Berra wore the number in 1946 and 1947 before switching to the number he would have retired with the Yankees, #8.
Would Hamels be the best to wear #35 with the Yankees? Spud Chandler, who wore the number back in 1937, says no… and I would have to agree. Hope this post was as fun to read as it was to write. Enjoy.