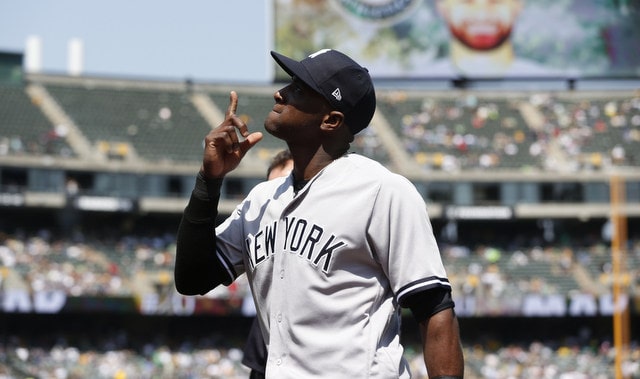 The New York Yankees made a couple of moves before the August 31st trading deadline here in 2018 to solidify the team for their postseason run, and one of those moves was to acquire infielder Adeiny Hechavarria from the Pittsburgh Pirates. Let's meet the man who is probably happy that the Yankees don't showcase last names on their uniforms. This is Meet a Prospect: The Adeinu Hechavarria Special Edition.
Adeiny Hechavarria Barrera was born on April 15, 1989 in Santiago de Cuba to Diosmede and Mirta Hechavarria. Hechavarria was a Cuban defector that made his way to the United States after he and 11 others fled the country via boat from Mexico during the Pan Am tournament in Mexico in 2006. Hechavarria worked out and showcased his talents for teams in the Dominican Republic in 2010 before eventually signing with the Toronto Blue Jays on a four-year deal worth $10 million. Hechavarria toiled around in the Blue Jays minor league system until August 4, 2012 when Toronto called him up to the Major Leagues for the first time. Hechavarria finished the 2012 season with the Blue Jays before being traded to the Miami Marlins along with Henderson Alvarez, Jeff Mathis, Yunel Escobar, Jake Marisnick, Anthony DeSclafani and Justin Nicolino in exchange for LHP Mark Buehrle, RHP Josh Johnson, INF Jose Reyes, catcher John Buck, and INF Emilio Bonifacio. #Blockbuster.
Hechavarria was named the Marlins starting shortstop on Opening Day for the 2013 season and finished the 2013 campaign with a .227 average with three home runs and 42 RBI in 148 games played. Hechavarria was much better in 2014 posting a .276 average with just one home run and 34 RBI in 146 games. Hechavarria saw his numbers continue to improve in 2015 as he posted a .281 average with five home runs and 48 RBI in 130 games for the Marlins and even won National League Player of the Week on April 26, 2015. Hechavarria saw a slight decline in 2016 as his numbers dropped to a .236 batting average with three home runs and just 38 RBI in 155 games. Hechavarria was back with the Marlins for the 2017 season before the club ultimately traded the infielder away to the Tampa Bay Rays for minor leaguers Braxton Lee and Ethan Clark.
Hechavarria finished the 2017 campaign with a .267 batting average and a career-high eight home runs for the Tampa Bay Rays. The Rays designated Hechavarria on August 1, 2018 to clear a roster space for the newly acquired outfielder Tommy Pham and was quickly traded to the Pittsburgh Pirates for right-handed pitcher Matt Seelinger and cash. The Pirates then flipped Hechavarria to the New York Yankees on August 31 of this year for a player to be named later, thus starting his tenure in the Bronx. Welcome to the organization, Adeiny, and welcome to the Yankees family.