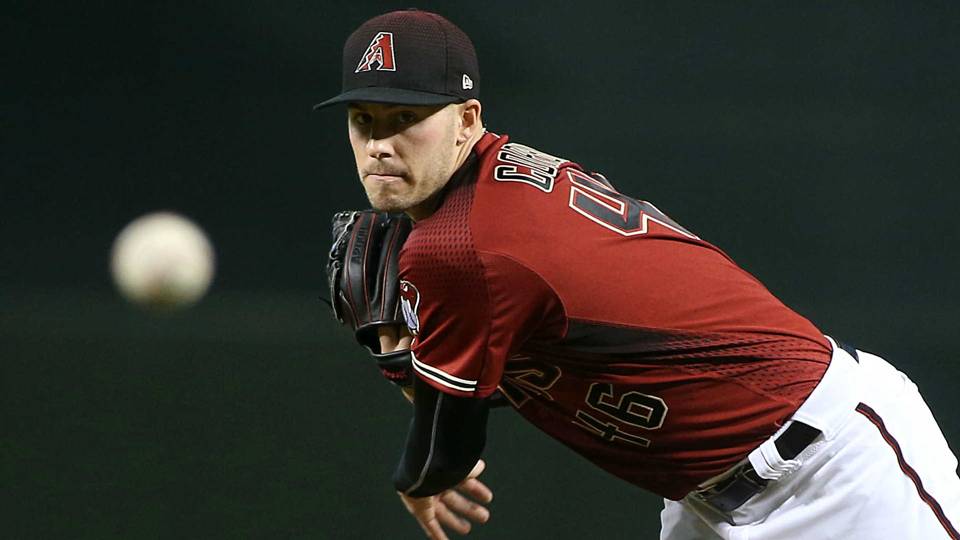 When it was reported yesterday that top free agent starter Patrick Corbin was meeting with the Philadelphia Phillies, I admittedly didn't think much of it at first. The Phillies are expected to spend a ton of money, even if it means spending it foolishly, this winter and it just makes sense to potentially spend some of that money on pitching. Corbin is the top pitcher available, so the match is there. When I saw that the Phillies had a photoshopped picture of Corbin on their big screen inside Citizens Bank Park with the lefty wearing a Phillies hat and uniform, I admittedly panicked. Had the Phillies signed Corbin right under the Yankees noses? Were the Yankees about to get spurned by the Phillies for yet another left-handed starting pitcher? I went to bed last night hoping to not wake up this morning to the news of Corbin signing with Philadelphia.
Luckily for me, Corbin is still a free agent and the New York Yankees still have a shot at his services, but I just cannot shake the feeling that the Phillies are either going to make this really expensive for Brian Cashman and company, or they are going to make Corbin an offer he simply cannot refuse. I began my morning routing this morning checking Twitter when I saw a tweet that sent that feeling deep down in the pit of my stomach again. It was a tweet that was comparing the stats of Patrick Corbin to the last left-handed pitcher that chose the Philadelphia Phillies over the New York Yankees, even though everyone and their mother thought that he was coming to the Bronx. Cliff Lee. Is this de ja vu all over again?
Patrick Corbin [2012-2018]. 109 ERA+, 945.2 IP, 8.5 SO/9, 2.6 BB/9, 3.65 FIP, 11.4 WAR.

Cliff Lee [2002-2008]. ERA+, 965.2 IP, 6.7 SO/9, 2.7 BB/9, 4.19 FIP, 11.9 WAR.

— ღ 𝒢𝑒𝓁 (@LttleGel) November 28, 2018
Her tweet got cut off, but Cliff Lee's ERA+ is 105.Shout out to @LttleGel on Twitter. She is a great follow on Twitter and a huge Yankees fan, so go give her a follow. You won't regret it.
I love this tweet because I have seen many Yankees fans wondering how Corbin would translate from the NL West to the AL East Division. I have also seen many others question why the Yankees would want him after just "one good year." The stats don't lie, Corbin has been underrated over the last six-to-seven years.
Corbin broke into the league in 2012 with the Arizona Diamondbacks and pitched in 22 games, 17 of them starts, posting 107 innings pitched and a 0.5 WAR. Corbin has been durable aside from his Tommy John surgery that stopped his 2014 season and shortened his 2015 campaign, but he pitched 36 games in 2016 (24 starts), 33 games in 2017 (32 starts) and 33 starts in 2018. From 2002 – 2008 Cliff Lee was one of the best pitchers in the American League with the Cleveland Indians. Lee won the 2008 American League Cy Young Award with a 22-3 season while he also finished 4th in the AL Cy Young vote in 2005 with an 18-5 record. Lee was well on his way to another great individual season in 2009 before the Indians ultimately traded him (along with outfielder Ben Francisco) to the Cleveland Indians for Carlos Carrasco, Jason Donald, Lou Marson and Jason Knapp.
Lee, like Corbin, was just entering his prime and beginning to find himself at the time of the trade. Lee pitched the Phillies to the World Series in 2009, a loss to the New York Yankees, before returning to the American League for the 2010 season. This is a great comparison of two similar players in two similar scenarios, and I believe this may give us a general idea of what we can truly expect from Corbin going forward if he were to sign with New York.
Six more years of Cliff Lee and the opportunity to right a wrong by signing Corbin for just money? Yes, please. Every day of the damn week.