The New York Yankees went out and traded for Zack (no longer Zach) Britton during the summer of the 2018 season not only to bring his immense talent to their own ball club, but to also keep his left-handed throwing arm away from rivals like the Boston Red Sox and the Houston Astros. The Yankees liked what Britton brought to the table so much, and vice versa obviously, that on January 6, 2019 the team brought him back on a somewhat complicated three-year (maybe four…. maybe two) deal worth $39 million (or $50 million… or $26 million). Let's meet the man that will likely be pitching the 8th inning (or the 7th inning… or the 6th inning… or the 9th inning) out of the bullpen this season for the 2019 New York Yankees, Zack Britton.
Zack Britton, 31-years old, is a left-handed throwing relief pitcher that stands 6'3" and weighs in at 195 lbs. Britton possesses a 95 MPH sinker, an 82 MPH curve ball, and a rarely thrown 95 MPH four-seam fastball. Britton's sinker generates an extremely high number of swings and misses as well as an extreme number of ground balls, both of which work well inside Yankee Stadium. Britton also misses a ton of bats with his curve ball as well, although his fastball leaves much to be desired statistically.
Zachary Grant Britton was born on December 22, 1987 in Panorama City, California. Britton was raised by his family in Santa Clarita, California along with two older brothers. Britton attended Canyon High School for his freshman year where he sustained fractures of the skull and clavicle as well as bleeding in the brain as a result of diving headfirst into a concrete wall while attempting to catch a foul popup furing baseball practice with the team. Britton spent two days in intensive care due to the injuries. Britton was then moved by his family to Texas where he transferred to Weatherford High School. While at the school, Britton was an all-state outfielder for the team and also doubled as a pitcher. Britton was offered an athletic scholarship to attend Texas A&M University. Britton never took advantage of that scholarship from the Aggies, instead choosing to sign with the Baltimore Orioles who drafted him in the third round, 85
th
overall, in the 2006 MLB First Year Players Draft. Britton signed a $200,000 signing bonus and immediately began his professional career with the club.
Britton worked his way through the Orioles minor league system from 2006 – 2011 before getting his MLB call up on April 3, 2011. Britton, then a starter, was called up to replace the injured Brian Matusz in the starting rotation for the Orioles. Britton was ultimately sent down on July 9th of that season after losing six of his last seven decisions after winning his MLB debut, some would speculate so that the Orioles could delay his free agency by a season by manipulating his service time, and finished his rookie campaign with a 4.61 ERA, a 1.45 WHIP and an 11-11 record in a total of 28 games. Britton returned in 2012 to make 11 starts, but had his season cut short because of a left shoulder impingement that landed him on the disabled list until July. Britton made another seven starts for the Orioles in 2013 over 40 innings of work before the team ultimately decided to move the left-hander to the bullpen.
The 2014 season was the first season that Britton worked solely as a reliever for the Baltimore Orioles after winning a spot on the club's Opening Day roster. Britton would assume the closer's role for the team and finished his first season as a closer converting 37 of 41 save opportunities with a 1.65 ERA. Britton also helped the Orioles sweep the Detroit Tigers in the 2014 ALDS, picking up a pair of saves, before losing to the Kansas City Royals. Britton would be selected to his first career All-Star Game in 2015 after saving 23 of 24 games in the first half and would finish the year with 36 saves and a 1.92 ERA. Britton would continue his string of success as a closer in 2016, opening the season with 19th consecutive saves, setting a new Orioles franchise record. Britton stretched that streak to 29 games to close out the first half of the 2016 season and made the All-Star team for the second consecutive season. Britton saved his 33rd straight game on August 3rd, setting an MLB record for most consecutive saves to start a season by a left-handed pitcher, while he also set an MLB record for most consecutive relief appearances without allowing an earned run, 39 at that point, on August 11th of 2016. Britton finished the season with 0.54 ERA in 67 innings (69 games) along with 74 strikeouts and a 0.84 WHIP. Britton saved all 47 of his save chances in 2016 en route to winning the Mariano Rivera Award and a fourth-place finish in the AL Cy Young Award balloting, receiving five first-place votes.
Britton would open up the 2017 season with a save, the 50th consecutive save dating back to October 1, 2015, becoming just the fifth pitcher in MLB history to convert at least 50 consecutive save opportunities. Britton would reach 54 consecutive saves before being added to the 15-day disabled list with left forearm tightness. Britton would convert his 55th consecutive save after two separate stints on the DL with the forearm and would stretch the streak up to 60 games before the Oakland Athletics broke the streak after an impressive 704 days. Britton would end the 2017 season making only 38 appearances out of the bullpen. It was later revealed that Britton had suffered a ruptured Achilles tendon, ruling him out of play for at least six months. Britton opened the 2018 season on the 60-day disabled list and would not make his debut until June 12th of that season. Britton spent a month with the Orioles before Baltimore shipped him to the New York Yankees in exchange for Dillon Tate, Cody Carroll, and Josh Rogers.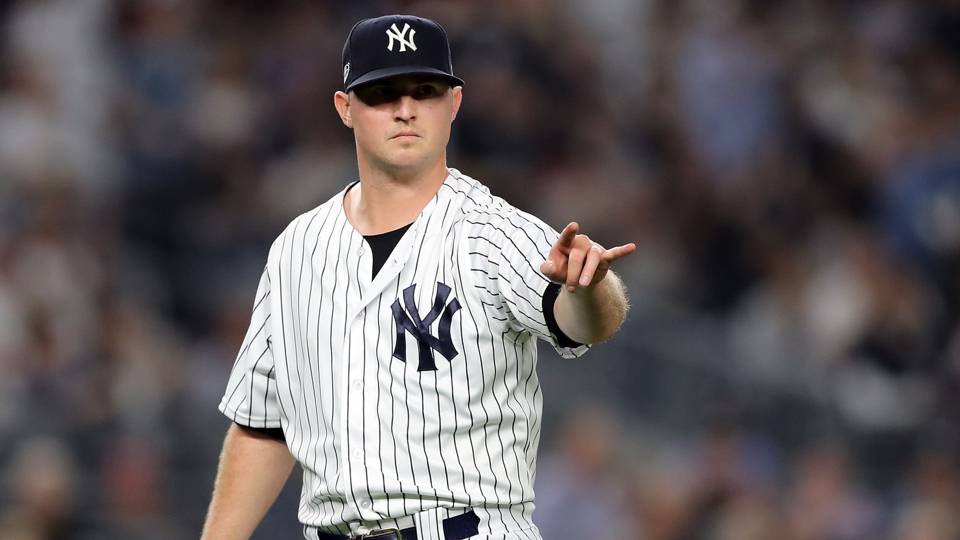 Now the Yankees and their fans get to see what a full, healthy season of Zack Britton really looks like here in 2019. Welcome back to the team, Zack, and welcome back to the family!!