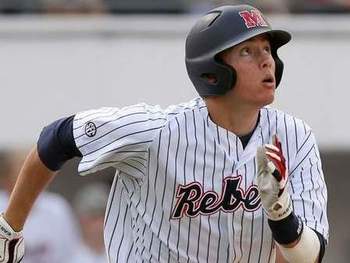 The New York Yankees used their 10th round pick, 347th overall, on college first basemen Matthew Snyder. Matthew has spent his collegiate career at Ole Miss University. Matthew signed for, like his teammates two rounds previous to him, a well below slot deal at 10K.
Matt is a big guy, sitting at 6'6", and has major league blood running through his veins. His father, Brian Snyder, played 12 years in the minor leagues and two years in the show. He also has a brother, Brandon Snyder, who plays for the Texas Rangers. All these traits helped him his .363 with 7 HRs and 29 RBIs as a Senior at Ole Miss. His left handed swing has plenty of time to develop while we work through the Mark Teixeira contract. The only thing that concerns me about Snyder is whether he will be a hitter only type player of if he will round out as a complete player.
Matt Snyder is already playing 1B for the Staten Island Yankees in the New York Penn League. In 25 games and 87 at bats at the time of this writing Matt has a .322 average, 2 HRs, 22 RBIs, 12 BB's, 9 K's, and an insane .918 OPS. He looks way too good and way too mature to be playing at Staten Island for much longer.