David Lee Adams was born on May 5th, 1987 in Margate Florida where he attended Grandview Prepatory High School in Boca Raton, Florida. With a 6'1" 205 lb frame batting right handed and playing the middle infield you can see why the Yankees drafted him in the third round of the 2008 MLB First Year Players Draft. It is worth noting that the Detroit Tigers originally drafted David in the 21st round of the 2005 MLB Draft but David decided instead to go to the University of Virginia. With, finally, a full season and a healthy season under his belt he may finally be on the cusp on the Major Leagues whether that be with the Yankees or another ball club.
The first time the Yankees casual fans really ever heard the name David Adams was at the trade deadline in the 2010 season where he was in a potential deal that would have brought left handed pitcher Cliff Lee to the Bronx for Jesus Montero and others. The deal was all but agreed upon until the Mariners noticed that David Adams, who was on the disabled list with a sprained ankle at the time, ankle was broken and not sprained and the deal fell apart. A few days later the Mariners would trade Cliff to the Texas Rangers and David Adams would miss most of the 2010 and a lot of the 2011 season with ankle issues. These issues would force the Yankees hand, along with a declining Alex Rodriguez not that they would ever admit to that, in moving him from second base to third base before the 2011 season.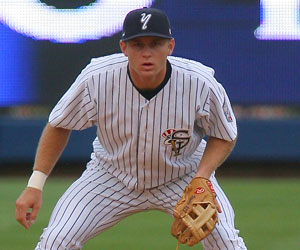 David Adams will be entering his age 25 season and this will be his second season on the 40 man roster under Rule 5 draft protection. David had a stellar 2012 season with the Trenton Thunder putting up a triple slash of .306/.385/.450 with an OPS of .834 playing in 86 games, the most he has played in since 2009. David seems slated to be the starting third basemen for the Scranton Rail Riders starting in 2013 and should be able to see the majors as early as mid season 2013.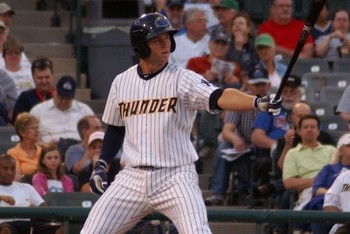 ETA : 2013