Looking Ahead To The 2014 New York Yankees
Obviously a lot can change between now and the end of the season, let alone before free agency really begins for the 2014 season, so keep in mind that these views are my own and subject to change. The Yankees have a lot of holes to fill in the free agency period before the 2014 season and I expect the Yankees to go back to being a free agency predator with Alex Rodriguez and his, using AAV, $27,500,000 off the books this season and available to spend. The Yankees, again in my opinion, will fill one spot in the rotation with a veteran presence, a veteran presence in the bullpen to help the transition of the Yankees pen post Mariano Rivera, a replacement for David Adams because he has not cut it at third base, and probably a veteran designated hitter that we have fallen in love with recently. Let's take a look at the Yankees roster as it stands now before we get into what should be a fun free agency for the fans, hopefully.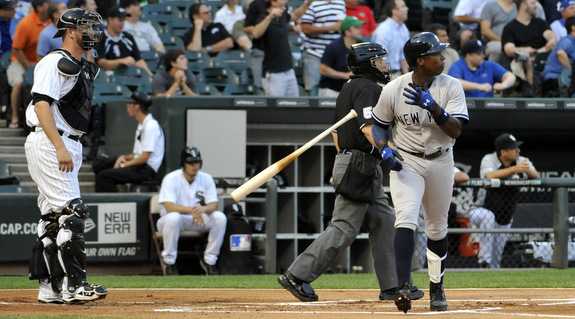 Starting position players set in stone for 2014 in my opinion:
C: Francisco Cervelli
1B: Mark Teixeira
LF: Alfonso Soriano
CF: Brett Gardner
RF: Ichiro Suzuki
BN: Vernon Wells
BN: Eduardo Nunez
BN: Chris Stewart/Austin Romine
BN: Jayson Nix
SP: CC Sabathia
SP: Ivan Nova
SP: Michael Pineda
SP: David Phelps
CL: David Robertson
RP: Shawn Kelley
RP: Preston Claiborne
RP: Dellin Betances
P: Adam Warren
* Derek Jeter has a player option worth $9,500,000 in 2014 that I expect him to exercise but it is still not set in stone.
** Alex Rodriguez is under contract for the 2014 season but is suspended due to his links to Biogenesis and will miss the entire 2014 season.
*** I also expect Robinson Cano to be back with the Yankees before it is all said and done but again at this time that is not set in stone so therefore he is left off the roster for now.
**** I also expect Curtis Granderson to take a one year qualifying offer to try and rebuild his free agent stock and value before trying free agency again after a healthy 2014 season.