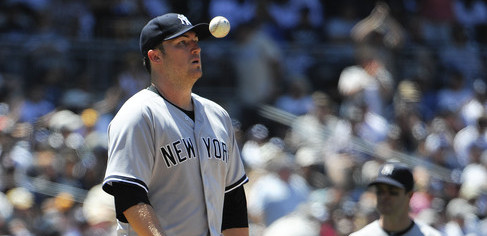 I know that the announcement has been made that David Huff will make the start on Saturday and Hughes will be in the bullpen but I took the time to type this out and schedule it so I am just going to post in anyway and show you guys how smart I am! #sarcasm
The story of Phil Hughes has been an interesting one in his contract season. Hughes was pushed back over the weekend to miss the Baltimore Orioles in a game that the Yankees had to have in favor of starting against the last place Chicago White Sox. Mother nature is not one to make it easy apparently because Hughes did not last two innings before a lengthy rain delay ended his day. The Yankees have two options now, well three if you include swapping David Huff into the starting rotation and taking Hughes out but I cannot see manager Joe Girardi having the gall to do that, they can let Hughes take his regular turn on Sunday at home against the Boston Red Sox in another game that they must have or they can start him tonight against the White Sox. Hughes did not expend himself much at all on Monday before being taken out and could easily give us 90 or so pitches tonight against a rookie making his major league debut in Erik Johnson. What should the Yankees and Girardi do?
Well if you read the article title you obviously know what I am thinking here, the Yankees need to push CC Sabathia back a day to start on Friday and let Hughes pitch tonight against Chicago. Hughes has his lowest ERA against the White Sox of any opponent in baseball and their offense seems like a much easier task then the first place Red Sox. That also allows the Yankees to send CC Sabathia, Ivan Nova, and Andy Pettitte to the mound in three games they must have rather than skipping a red hot Pettitte in favor of Hughes. CC will not complain about an extra days of rest and I do not think that Nova or Pettitte would either so this move would make a lot of sense for Girardi and the Yankees if they are serious about making the post season this year.
It makes sense and it should be done so will it? Probably not. #BinderLoyalty