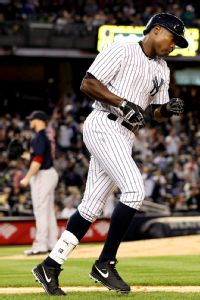 Alfonso Soriano will retire after the 2014 season if his performance is not up to his standards this season. If Soriano can put on a tear like he did the second half of last season and decides to stick around he would like to play two more seasons and would like to spend those two seasons in New York with the Yankees. Buster Olney broke the story but a subscription is required to read the material so if you have one be sure to check it out, I don't.
If Soriano can still hit and keep up his bat speed, which I think he can, I see no issue with him coming back to New York. Sori can play left field, right field, and can DH. He has also dabbled at first base a little so he is at least a little more comfortable with it than Carlos Beltran was last night which never hurts. The problem is committing two years to a guy that will be 39 years old when he signs the contract and almost 41 when the contract ends.
If Soriano would be willing to go the one year contract indefinitely route I would have no issue with it but in the end, my favorite player and all, if he wants two seasons he is going to have to get it from someone else no matter what if I am signing the checks.