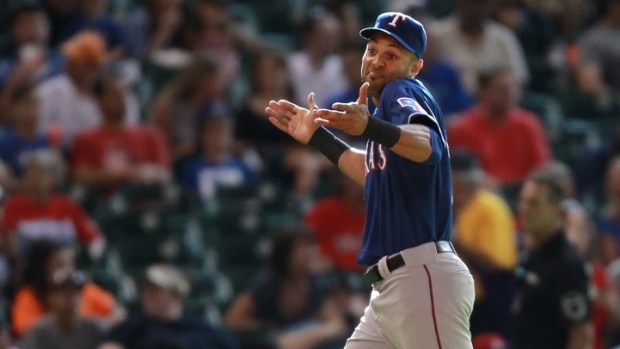 A few weeks back we discussed the need for a fourth outfielder in New York after the injury to Carlos Beltran and Ichiro Suzuki coming back down to Earth. We mentioned, once again before anyone else, that Alex Rios would be a good fit that could fit into the Yankees plans and budget. Now that the rumors around Rios joining the Yankees are in full tilt let's take a look back at where it all began,
right here on TGP
:
Going into the 2014 season the New York Yankees had too many outfielders and not enough positions to accommodate. Here we are at the end of July in the same season and the Yankees don't have enough outfielders to make a real run at a division title or a Wild Card. You really can't predict baseball Suzyn.



The Yankees started the season essentially with Brett Gardner as their left fielder, Jacoby Ellsbury manning center, Carlos Beltran as your right fielder, Alfonso Soriano as your full time designated hitter, and Ichiro Suzuki on the bench. Three months later you still have your mainstays in Gardner and Ellsbury but a bone spur has Beltran limited to DH only starts, Soriano is not on the team anymore, and Ichiro is essentially your every day right fielder.



The problem is Ichiro is a singles only hitter and has been exposed lately as an every day player. The Yankees don't seem comfortable with Beltran in the outfield at all this season and Ichiro is not going to cut it everyday, the Yankees need an outfielder. Since the Yankees won't call up Robert Refnsnyder and seem unwilling to call up Zoilo Almonte, Adonis Garcia, or Jose Pirela New York may instead turn their attention to the Texas Rangers Alex Rios.



Rios, at the time of writing this, is batting .302/.330/.405 with only four home runs and 16 stolen bases. Rios defense has actually been better than Ichiro's this season and his right handed bat would compliment the lineup well. The biggest issue is a six team no trade clause that is written into Rios' contract that includes the Yankees. Rios is in the last year of a monster deal but there is a team option for the 2015 season worth $13.5 million with a $1 million buyout.



The Yankees and the Rangers start a four game series tonight in Yankee Stadium and will play seven times before the trading deadline which is a perfect showcase for Rios and the Yankees. Will the Yankees make it happen? Stay tuned...