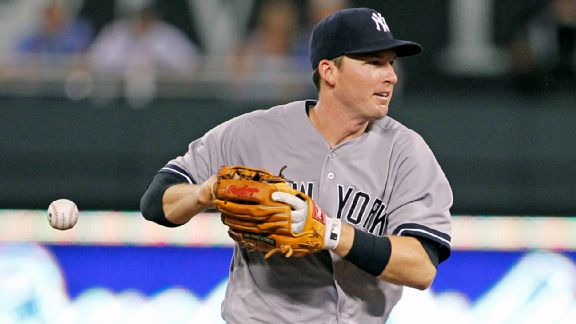 Earlier in the week I wrote an article about the superstition I had concerning the players I put on my desktop of my PC at home. It seems that every season since 2009 whoever is on my desktop has a healthy and productive season from AJ Burnett in 2009, Derek Jeter in 2012 and Masahiro Tanaka for 2015. There also, and I don't purposely go out of my way to do this, seems to always be a player that I just harp on and harp on and beg to get lost coming to the stadium so Joe Girardi doesn't put them into the game. It was Chris Capuano last year, it was Andruw Jones for a couple years, Chris Stewart comes to mind and for much of the 2009 season it was Damaso Marte. Who will it be in 2015? If I'm guessing, and I am, it's going to be Stephen Drew.
Mark Teixeira is going to need a day here and there when he rips the skin around his fingernail fixing his hair but I have come to expect it at this point. Ivan Nova is going to have growing pains coming back from Tommy John surgery and the only consistent part of his game is going to be his inconsistency, you expect that as well. Alex Rodriguez is going to show at times that he basically hasn't played for two seasons, has two bum hips and is a 40 year old player at the bat and in the field, he didn't offer himself that ridiculous contract and would have been a fool to turn it down. Drew though won't have that "I missed half the season because I turned down a huge qualifying offer because I have an idiot for an agent named Scott Boras" excuse and will have to produce and produce right away.
Like I said I don't go out of my way to pick a player every single season and go after them, it just happens. It usually happens when there is a much better, much younger and much cheaper alternative in the farm system that I have admittedly grown attached to over the year. His name is Robert Refsnyder (not Robert Paulson….).