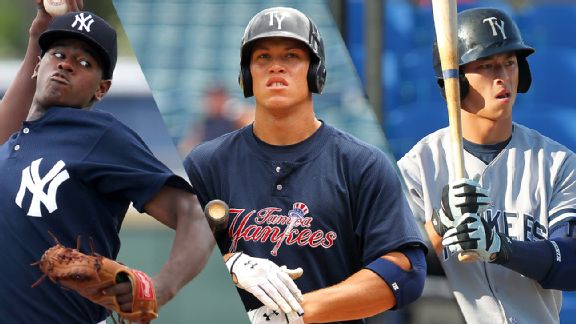 The 2015 season has been the Year of the Prospect, and not just for the New York Yankees but for the entirety of Major League Baseball. Without the concrete numbers in front of me I would think we have seen more Major League debut's in 2015 then we have in quite a long time, I know for a fact that the New York Yankees set the record for the most by one team in a single season with 18 this season. Yesterday when the Yankees released their Wild Card postseason rosters I couldn't help but be amazed at just how much homegrown talent was on the roster. Sure a few spots would have been filled if it had not been for injuries to Stephen Drew, Mark Teixeira and Nathan Eovaldi and had CC Sabathia been available but still, in years past those losses would have been a death sentence and in 2015 it has made the team win almost in spite of it all.
Breaking down those rosters from yesterday's game you can see just how the Yankees farm system is going to play a significant role for the team going forward. Luis Severino, Greg Bird, James Pazos, Robert Refsnyder, Gary Sanchez, Rico Noel, Bryan Mitchell and Slade Heathcott all made the Yankees Wild Card roster as rookies and all but Noel, who was originally in the San Diego Padres organization before the middle of 2015, came from the Yankees farm system. Sure a case could be made that if the team hadn't lost Eovaldi that Severino wouldn't be in, if the team hadn't lost Drew that Refsnyder would be in, if the team hadn't lost Teixeira that Bird wouldn't be in and if it wasn't a one-game playoff that allowed the team to reset their rosters after the game if they won that Sanchez wouldn't be in but I don't think I would necessarily feel comfortable agreeing with that.
Severino was held back early in his minor league season with the hopes of him coming up late and providing the boost that he has. Bird was up when both Alex Rodriguez and Teixeira were healthy and was being groomed slowly, that plan just never came to fruition. You likely have a point with Refsnyder, only because his second half numbers were atrocious, and Sanchez but the fact of the matter is the Yankees have been preparing for this day all season long.
The reason David Price, Craig Kimbrel, Johnny Cueto and Ben Zobrist to name a few are not wearing Yankees uniforms these days is because of the significance of the farm system going forward. That farm system will only get more and more important as the contracts of ARod, CC Sabathia, Carlos Beltran and Mark Teixeira come off the board and I, for one, am excited to see it happen.