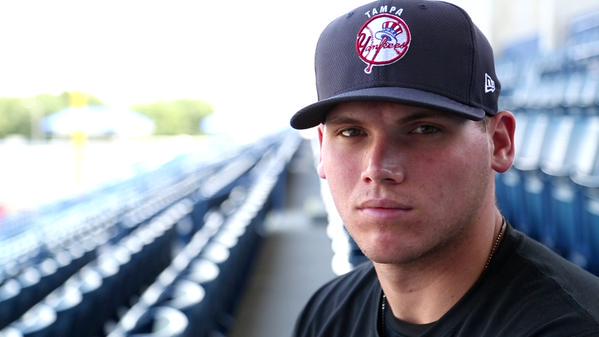 Rookie Davis was one of the three lucky and fortunate Yankees farm hands to be protected from the Rule 5 Draft this winter after New York added the right-hander to their 40 man roster. Davis has a bit of a breakout season in 2015 but hasn't pitched much above the Double-A level in his career. Davis may have gone right through the Rule 5 Draft untouched but he was the closest to a no-brainer the Yankees had this season so the move made sense on many levels. Now Davis is here so we may as well meet him. This is Meet a Prospect: The Rookie Davis Edition.
William "Rookie" Davis is another one of those big-framed right-handed pitchers that the New York Yankees absolutely love. Davis stands at 6'4" and weighs in at 234 lbs. and will be 23-years old for much of the 2016 season, a season that likely begins back in Double-A with the Trenton Thunder. Davis throws a 92-96 MPH fastball with a "tight" and plus power curveball with a changeup and cutter that he used to keep opposing hitters off balance.
Davis is still relatively new to pitching after being a two-way player in High School and after missing the 2011 season, the season where he signed his first professional contract with the Yankees, due to signing too late. Despite it all Davis is expected to hit the big leagues, either as a reliever or as a starting pitcher, in 2016.