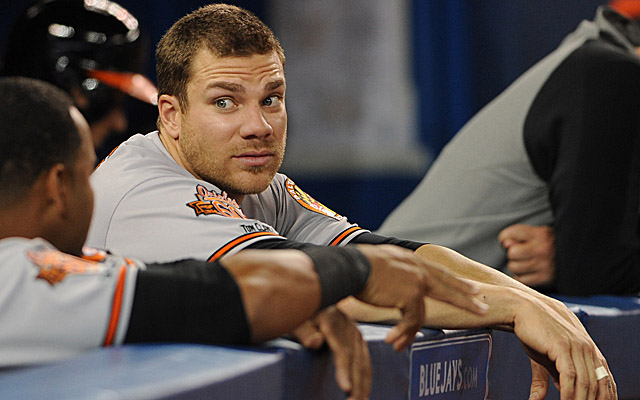 The last time a member of the Baltimore Orioles did not lead Major League Baseball in home runs was the 2012 season. In 2012 Miguel Cabrera of the Detroit Tigers hit 44 home runs while Chris Davis led the league with 53 home runs in 2013. In 2014 it was Nelson Cruz who led the league in home runs for the Orioles with 40 dingers while Davis led the league in home runs once again in 2015 when he finished the season killing the New York Yankees hitting his 45th, 46th and 47th home runs of the season. Davis hit free agency following the 2015 campaign and ultimately returned to Baltimore on a huge seven year deal giving the Orioles a legit home run threat in their lineup but what will it do for your fantasy team?
Davis is a legit first round pick in my opinion. He has 50 home run power and especially has 50 home run power inside of Oriole Park in Camden Yards. At Camden Yards Davis is a career .270/.352/.575 hitter with 159 home runs in four seasons in Baltimore and is now entering the peak of his prime at 30-years old. Could these numbers conceivably get better in 2016?
Davis should have plenty of protection in this year's Orioles lineup as Adam Jones, Mark Trumbo, Manny Machado and Matt Wieters and Davis adds versatility to your fantasy team as he is eligible at first base and the outfield. Davis is still going to hit around .250 and he's still going to strike out 200+ times a season but the 40-50 home runs are damn near impossible to find right now. For that alone I would take Davis early if you can, you can get your batting average elsewhere. You can't get home runs elsewhere. Get Davis if you can.