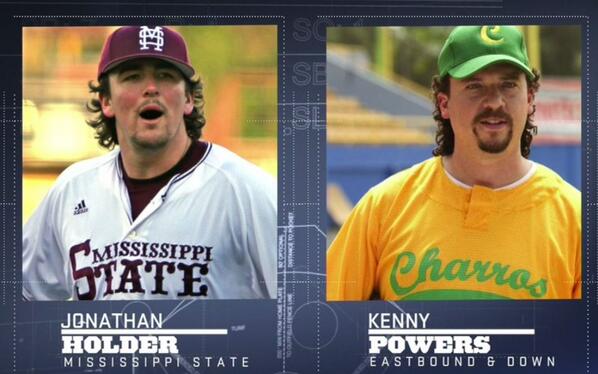 The New York Yankees picked apart the Mississippi State Rebels baseball team during the 2014 MLB First Year Players Draft by taking Jacob Lindgren with their first pick and today's showcase prospect later in the draft Jonathan Holder. Holder, or Kenny Powers.. I haven't quite figured it out yet, was drafted as a relief pitcher and is expected to absolutely fly through the Yankees system as soon as the 2018 season realistically which has him at the #22 spot on this list.
So you may be asking why Holder is ranked above a guy like Tyler Wade on my list, right? Well like I said yesterday I don't believe Wade has enough of a bat to be a good second baseman, especially in this day and age while Holder was drafted as a reliever. Holder was drafted as a reliever but that doesn't mean he has been solely a relief pitcher as a professional. Holder made 18 starts with the Tampa Yankees last season and made three starts with the Gulf Coast Yankees before finishing his season in Triple-A with the Scranton RailRiders. Holder was only there for the playoff push after the organization gutted the team with September call ups but still, Holder has a whopping 5.2 innings of Triple-A experience on the back of his baseball card.
If Holder can continue being a starting pitcher and continue to post numbers similar to his 2.87 ERA and 1.094 WHIP as a starter from Tampa he may reach Trenton by the end of the season, if not Scranton. If Holder can be a starter his value is more, in my eyes anyway, than as a reliever. Sure it may slow down his progression to the Major Leagues but it may be the best thing not only for himself but for the team in the long run.
22. Jonathan Holder
23. Tyler Wade
24. Nick Rumbelow
25.Jordan Montgomery
26.Trey Amburgey
27. Ben Gamel
28. Austin DeCarr
29. Thairo Estrada
30. James Pazos