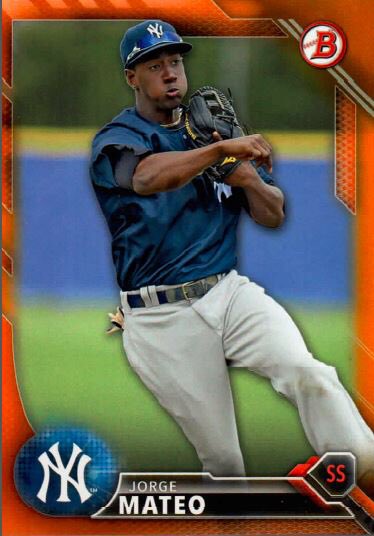 Jorge Mateo is back in the lineup and back to stealing bases with no ill-effects after his benching for lack of hustle a couple weeks back now. Mateo is now working his way towards a promotion and back on the fast track through the Yankees farm system like so many others in front of him.
I would expect Mateo to take the next step forward around the June timeframe which seems standard for prospect promotions with the Yankees. By August you never know, Mateo could be in Double-A with the Trenton Thunder or even higher. Higher seems unlikely with his position change from shortstop to second base but I'm not going to be the one to doubt him. He's too fast and he's too talented to count against right now.
Mateo's stock may actually take a hit after moving positions, shortstops are more valuable and harder to find than second basemen generally, but his stock should still be through the roof if he keeps on getting on base and stealing bases when he does.


| Year | Age | Tm | G | PA | R | H | 2B | 3B | HR | RBI | SB | CS | BB | SO | BA | OBP | SLG | OPS |
| --- | --- | --- | --- | --- | --- | --- | --- | --- | --- | --- | --- | --- | --- | --- | --- | --- | --- | --- |
| 2016 | 21 | Tampa | 37 | 160 | 32 | 47 | 4 | 6 | 5 | 26 | 13 | 8 | 12 | 35 | .324 | .377 | .538 | .915 |