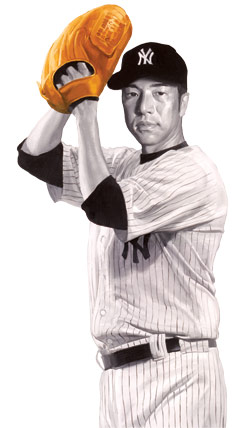 Just a quick check in with one of the Yankees former players, Hiroki Kuroda. Kuroda was marvelous as a starting pitcher for the Yankees in his three-year stint here but the lure of wanting to return home to his native Japan was too much. Now Kuroda can presumably retire and ride off into the sunset because he just led his Hiroshima Carp team to something that has not been done in 25 years. A championship.
The Hiroshima Carp with Kuroda on the mound beat the Yomiuri Giants 6-4 last weekend to secure their first Central League pennant in 25 seasons. Kuroda allowed three runs and six hits in six innings of work in the contest while striking out four and it was just enough to lead the team to victory. This marks Hiroshima's seventh Central League title in their storied history.
Kuroda, now 41-years old, has done everything and more with his career. He played for Hiroshima before playing four years with the Los Angeles Dodgers and three years with the Yankees before returning home to the Carp in 2015. Now he's finished the 2016 season on top. What more does he have to do?
Nothing. And that's a great feeling to have. Congrats to the Carp and congrats to an old friend in Kuroda.