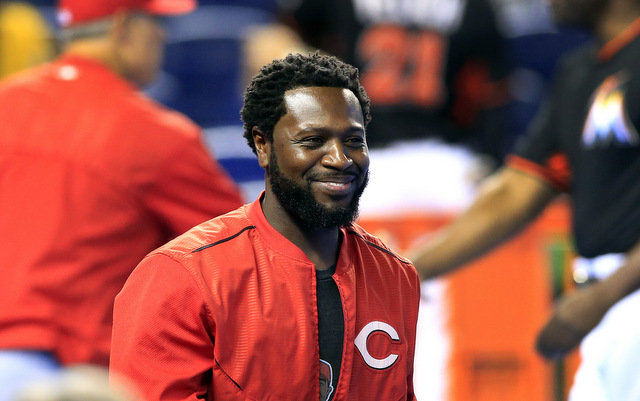 Yes, I realize this is a Yankees blog. Yes, I realize Brandon Phillips was a member of the Cincinnati Reds and yes I realize that he is now a member of the Atlanta Braves. Yes, I realize the Yankees won't see the Braves this season before the World Series and yes, I am well aware that the Braves are in the National League while the Yankees are in the American League. You know what though? It interested me as I live in Metro Atlanta, Georgia now after moving here from New York, it is in the news and I want to talk about it. You have been warned, friends.
The Atlanta Braves sent left-hander Andrew McKirahan and minor league right-handed pitcher Carlos Portuondo for Brandon Phillips on Sunday. Phillips, a second baseman and three-time All-Star with Cincinnati, attended high school in Georgia at Redan High in Stone Mountain, Georgia so this is a bit of a homecoming for the right-hander. Phillips was drafted out of Redan High School by the Montreal Expos in the second round of the 1999 MLB First Year Players Draft and for the first time in his MLB career will be making a comeback to his hometown. Those are always fun stories to write about.
Phillips will be in Atlanta to finish out his contract that has just one-year left on it worth $14 million in salary. Phillips will be entering his age 35 season in 2017 and had to waive his no-trade clause and ten-and-five rights to facilitate the trade so Phillips clearly wants to be in Atlanta, and who could blame him? Atlanta has a ton of young talent and could be ready to compete as early as the 2017 season. The Braves have the potential to have something special brewing once again and Phillips may be in the middle of it as he grooms the young guys before hitting free agency at 36-years old.
The Braves basically gave up nothing for Phillips and will simply assume his salary for the season. What Phillips could teach the young Braves in a mentor role you absolutely cannot put a price tag on but if you could I'd venture to say it would be a lot higher than $14 million at this stage in the game. Atlanta gave up McKirahan who did not pitch in the Major Leagues in 2016 after having Tommy John surgery while Portuondo pitched just 17 games in 2016 with Class-A and Triple-A after spending eight seasons in the Cuban League.
Phillips is going to be great in Atlanta and I can totally see him being a fan favorite basically from Day One. I look forward to seeing his spectacular plays at second base and what he can do to help the Baby Braves going forward. My heart belongs to the Yankees, and it always will, but I also enjoy watching some good local baseball as well so I'd be lying if I didn't say I was rooting for Phillips and the Braves a bit in 2017.