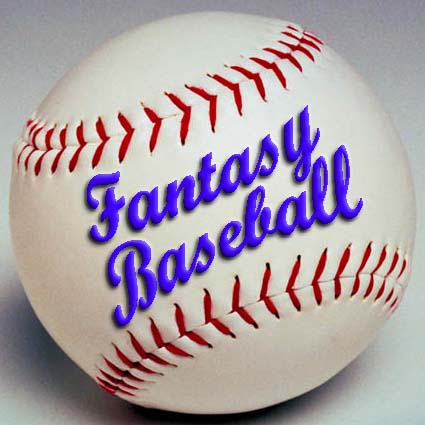 Spring training is almost upon us, and up North, in New York the temperatures have been in the 60's for the last two days. The bitter cold of the winter is starting to go away. The snow is disappearing and the kids will soon be going down to the sandlot to play ball. A lot of baseball fans just watch the game and enjoy the game. When the game is over, they turn it off. However, other people like myself turn the channel on the TV to another game or sports talk show. We can never get enough baseball. We never stop thinking about the game that we grew up loving. For the people like us that are trying to get more baseball and think about the game at a deeper level, we play Fantasy Baseball. We're the people who fill out the book at every game and can recite our favorite players stats like its nothing. We even know just about every player in league by their stance, windup or silhouette.
In a couple of weeks the annual Fantasy Baseball drafts for our respective fantasy leagues on many sites that have leagues for us. The draft gives us a restart from the team we had last year (unless u play in a keeper league), even if your team took first, last or any place in between, the draft brings back the competitive feeling that we all love. Most leagues have a rotisserie style draft which is a draft that starts 1-12 then 12-1 and back and fourth each round. This makes it a lot more fair than a league that drafts 1-12 every round which makes it so the person who drafts first always gets the best players. The rotisserie style makes it even out because the person who gets the first pick gets a more even team rather than the best pick every round.
When I draft my fantasy team every year I look for certain players, I don't always follow the projected stats and rankings like people who are newer to fantasy baseball. I start off the draft by taking the best overall hitter I can find, some people may chose an ace for their first pick, but I prefer a batter because there are a lot of pitchers who can give you saves, low ERA, wins, whip and other stats. Pitchers also play every fifth day so they can't help your team every day like an elite hitter. With my first pick in the draft I try to find the player with the best OPS if the league states it, but if it doesn't, I look for a player who barely ever gets injured (I stay away from players like Stanton and Tulowitzki), is consistent and has high triple crown stats, weighing higher on average and RBI's than home runs. If you have the #1 pick in the draft, you have to take Mike Trout he is the best overall player in stats year in and year out. Also, when I draft players I try to steer clear of players with tons of strikeouts like Chris Davis and Chris Carter because they have bad averages, players with good averages are more likely to be better in other stats as well like stolen bases, runs and home runs because if they hit the ball more it's a lot more likely for the ball to go over the fence if you put it in play than if you don't. If you get the choice of your draft position you should try to get right in the middle so you get an all round team,not a few good players and bad players. When drafting pitchers first look at their ERA, it's the biggest indicated of how good of a pitcher they are, next I look at their innings for the last couple of years to make sure they don't get injured often and are consistent, also I make sure they have a good whip, and finally I like to pick up younger pitchers who are not gonna break down and have really good stuff that can play up. They have a lot higher potential then some of the old guys who throw in the low 90s and are getting worse. When looking for a closer I look for someone with a lot of strikeouts because you need a closer who gets people out without letting people on base, they need a low ERA and projection to have a lot of saves. Some good people to pick up who are undervalued in the draft are Wade Davis and Alex Colome. When you have a lot of high average players and not a lot of home runs, you might want to pick up a guy like Chris Carter or Mark Trumbo towards the end that will get that up for you but not be the center piece of your team, so if they are batting .210 it won't hurt you that much.
Just know that the team you draft is not your final team that you are stuck with, you can pick up people on waivers and get players who are doing very good at a certain time to boost your team. Finally, remember it's just a game and have fun, you might have some times bet money, but you did it knowing you have a chance to lose it all. Happy drafting!!!! Hope you have fun!!!