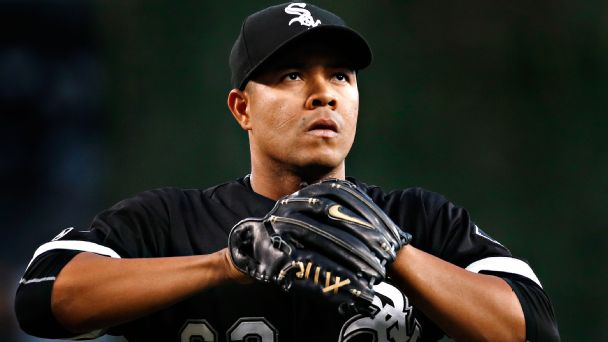 This whole "Chicago White Sox are going to trade Jose Quintana this offseason" rumor just won't die, will it? The New York Yankees have been one of the more active and aggressive teams in the pursuit of Quintana this offseason and have even got to the point in the negotiations where players names were exchanged. The Yankees reportedly declined the offer but that hasn't stopped the White Sox from being at basically every single Yankees exhibition game this spring training.
The Yankees have already stated that they wouldn't trade Gary Sanchez, Greg Bird, Gleyber Torres, Justus Sheffield or Aaron Judge this offseason which led Chicago to ask the Yankees for Luis Severino, Jorge Mateo and Clint Frazier in a potential Quintana trade. FYI I'd still make that trade every day of the week and twice on Sunday.
I see the appeal in Quintana where others may not. Quintana is under team control with club options through the 2020 season for a very reasonable price tag of $10.5 million in each of 2019 and 2020. Quintana also makes just $14.35 million combined for 2017 and 2018 meaning that he would fit into the Yankees austerity plans as they try to get under the luxury tax threshold before 2019. Now some scoff at the idea of giving up Luis Severino for Quintana because of his youth and team control but one must remember that, according to Baseball Reference, Severino is set to hit free agency just a few seasons after Quintana after going through the arbitration process. It's the 24-year old devil you know (but not really) vs. the 28-year old devil you don't know but know can handle the pressure of pitching at the Major League level.
So the Yankees and White Sox continue to talk and Chicago continues to scout New York's top prospects. Nothing new to report yet I see this report all over the web once again this morning and throughout most of yesterday. Because journalism. I guess anyway. Carry on, nothing to see here. Either way I'd still like to see the deal get done so I bring you this "update" for your reading pleasure. Enjoy.