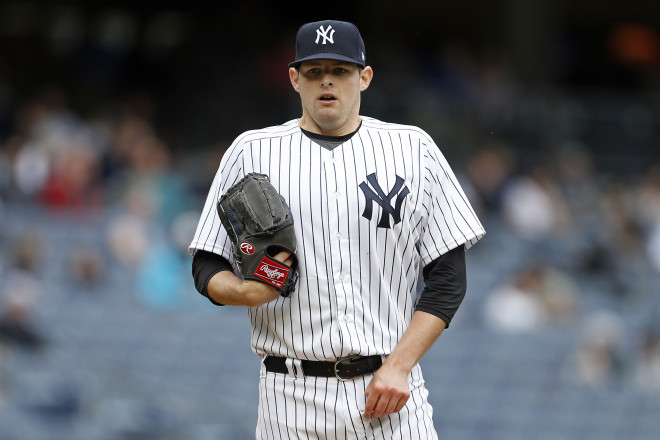 The New York Yankees, if you ask around, have very little in the way of starting pitching depth in their minor league system… or do they? We here at The Greedy Pinstripes were talking about Chance Adams at least a year before he became a household name with the fans and we have also been beating the drum and talking up Jordan Montgomery for at least a year now so who is the next Chance Adams or Jordan Montgomery in the organization? How about Dietrich Enns who was added to the 40 man roster recently as a way of being protected from the Rule 5 Draft? He wasn't chosen in the draft the year before when left unprotected so it looks like 29 other teams may have made a huge, huge mistake.
Enns is kind of like Jordan Montgomery in a way, he isn't a flashy prospect or a blue chip prospect by any means but at 25-years old Enns has been one of the most consistent and unhittable pitchers in all of the Yankees system. New York drafted Enns in the 19th round of the 2012 MLB First Year Players Draft as a relief pitcher from Central Michigan and all the 6'1" left-hander has done is dominate since. The Yankees converted him into a starting pitcher when he reached High-A with the Tampa Yankees and his career has seemingly taken off.
Now before you mention the fact that he is 25-years old and still yet to make his Major league debut I will remind you, or inform you in some cases, that Enns missed the majority of the 2014 and campaigns with Tommy John surgery. Enns was fully back and fully healthy in 2016 and he took Double-A by storm with the Trenton Thunder leading New York to promote him to Triple-A by the end of May. Enns finished 2016 with a combined 14-4 record (7-2 at both Double-A and Triple-A) with a 1.73 ERA and 1.17 WHIP with 124 strikeouts in 134 innings. Somehow Enns seemingly got stronger and better the closer he got to the Majors which led the Yankees to the tough decision they faced this winter, to protect the lefty starter or to leave him out there in the Rule 5 Draft again.
Enns walks are still a little higher than you would like, and that could be just the thorn in the side of his game or it could be directly related to still working his way back from Tommy John surgery, but either way the lefty always seems to find a way to get hitters out and with great consistency. Enns won't blow you away with his fastball, changeup, curve and slider repertoire but he mixes up his pitches enough and commands his pitches well enough to be extremely deceptive and consistent in the strike zone. Enns has his flaws but he is a starter with a 40 man roster spot so if we see an injury or three this season we may see Enns pulling a "Jordan Montgomery" as the next Yankees pitching prospect to ride the Scranton Shuttle all the way to the Major Leagues. Stay tuned and good luck to Dietrich.