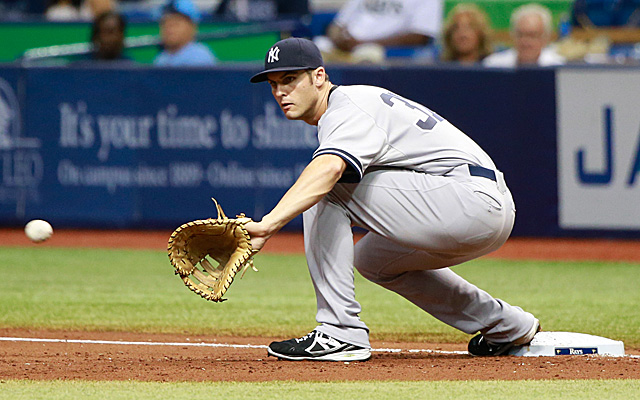 EDIT: The Gleyber Torres mention was written before his Tommy John surgery prognosis.

The countdown until the July 31st trading deadline in Major League Baseball has officially begun. Why? Because we said so. In years past, and this year will likely be no different, it seemed like teams were jumping the gun earlier and earlier thus grabbing the best talent before the hot stove even had time to reach its optimal baking temperature. With the news that Greg Bird is, according to Bryan Van Dusen anyway, not ready to fly the Yankees may look at first basemen before the deadline. Or they may not and may opt to stay within the organization to fill the void, we will touch on both possibilities in this blog post this morning.
Brian Cashman himself has said that the Yankees would stick with what they have while they wait on Greg Bird to return, which means more Rob Refsnyder, Matt Holliday and Chris Carter, but who really trusts anything that Brian Cashman says at this point? Remember when Bubba Crosby was the team's starting center fielder? Johnny Damon does. I did find it interesting though that Cashman did not at least mention or seem to entertain the idea of bringing Tyler Austin back to the Major Leagues to give him a shot. Austin would be a defensive upgrade over any of the three players mentioned above and he can also play the outfield making him versatile and all the more useful in my opinion.
Obviously the Yankees aren't going to sell the farm for a first baseman so maybe a rental that could easily be designated for assignment would be the best course of action for New York. The team is still sold on Bird, he is just taking longer to heal than expected and honestly the team probably didn't truly believe they would be in first place right now either. Eric Hosmer is out there but he would be expensive, even as a rental, so it makes you wonder if a Pedro Alvarez, a James Loney or even a Ryan Howard could make sense. I'm not looking for a guy that is going to set the world on fire with a .300 average and 30 home runs in the second half but someone who will take his walks and man the position adequately. The Yankees first base defense is horrendous right now and with players like Chase Headley who already struggle with their throwing arms the team may give away more runs with a Chris Carter at first base than he will ever drive in.
This question is not easily answered in my opinion. It all depends on Bird and how he bounced back from fouling that ball off his knee and whether his bruised ankle is healthy. If it is then the Yankees can survive with Carter, Holliday and Refsnyder. If it isn't healthy then the Yankees may need to make a move or three like, and here is something to think about as we end the post, moving Chase Headley to first and bringing up Gleyber Torres for third. Again, just a thought. Leave your thoughts in the comments section below.