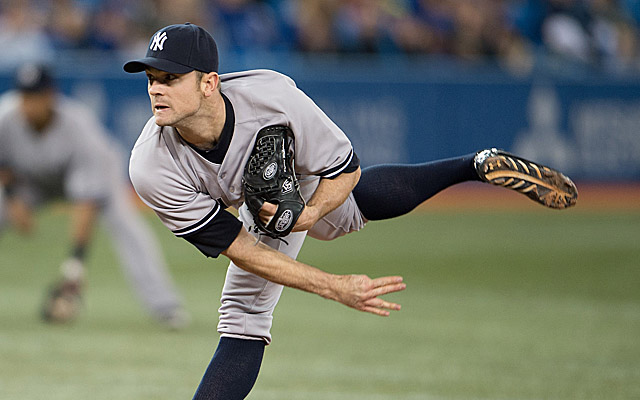 The New York Yankees got ahead of the curve this week acquiring three players from the Chicago White Sox including third baseman Todd Frazier and relievers Tommy Kahnle and David Robertson. We've already met Frazier today here on the blog and we have already been re-introduced to former Yankees prospect Kahnle let's get reacquainted with another former Yankee. This is Meet a Prospect, Again: The David Robertson Special Edition.
David Alan Robertson was born on April 9, 1985 in Birmingham, Alabama where he spent his first three years at Central Tuscaloosa High School. While at the school Robertson played shortstop for the Falcons and was a pitcher as well leading his team to back-to-back area titles and back-to-back 6A State Playoffs as well. After Robertson's junior season his school was split into three smaller high schools dropping Robertson to 5A ball with Paul W. Bryant High School. In his first season there and the first season of the school's baseball team's existence Robertson led the Stampede to an area title and to the Class 5A State Playoffs. Robertson's winning attitude caught the attention of the University of Alabama who gave him a scholarship to play baseball for the Crimson Tide.
As a freshman Robertson was named Freshman All-SEC and Freshman All-American by Baseball America while also leading the SEC in batting average against as he held opposing hitters to just a .183 average. As a sophomore Robertson was even better leading the Crimson Tide to their 25th SEC Championship while appearing in 29 games and compiling a 4-4 record with a 3.02 ERA and a SEC-leading 10 saves. Robertson was 21-years old at the time of the draft leaving the right-hander eligible for the Major League Baseball First Year Players Draft a year earlier than most and the New York Yankees came calling in the 17th round.
Robertson was drafted by the Yankees and ultimately signed with the organization in 2006 beginning his professional career. Robertson was absolutely dominant for the Yankees in their minor league system including three different stops in 2007 and two more stops in 2008 before reaching the Major Leagues on June 28, 2008. Robertson's MLB career did not start off as well as his minor league career leaving the right-hander optioned back to Triple-A after starting his career off with a 6.31 ERA but he was back in September as a part of September call ups where Robertson settled down and gained some much needed confidence at the MLB level.
Robertson started the 2009 season in the minor leagues but was called up multiple times for injuries and the right-hander made the most of his time here. Robertson pitched so well that the Yankees couldn't send him down and the right-hander was a huge part of the Yankees success in 2009 and into the playoffs and their eventual World Series win. Robertson earned the title "Houdini" in those 2009 playoffs after entering two high-pressure situations with multiple runners on base in the ALDS and ALCS escaping both instances without earning a run. Robertson had a World Series ring and was officially a staple in the Yankees bullpen.
Robertson pitched well in 2010 and despite the Yankees best efforts to load down the bullpen in 2011 Robertson was one of the few arms left standing after injuries decimated Joba Chamberlain, Pedro Feliciano and Rafael Soriano. Robertson was thrusted into the setup role for Mariano Rivers and ended up earning a spot on the 2011 American League All-Star roster replacing David Price of the Tampa Bay Rays. Robertson finished the season with 100 strikeouts becoming the first Yankee since Mariano Rivera in 1996 to finish the season with 100 or more strikeouts. Robertson finished his breakout 2011 season with a league leading 1.08 ERA and 34 holds earning him one point in the AL Cy Young Award and AL Most Valuable Player Award voting.
The Yankees gave Robertson a one-year deal worth $1.6 million for the 2012 season and Robertson was worth every penny of it for New York. Mariano Rivera went down with season-ending surgery in May of 2012 and Robertson was told he would share closing duties with Rafael Soriano. As we all know Soriano untucked his way to the closers role while Robertson settled in once again as the Yankees setup man having another successful season finishing with a 2.67 ERA. Robertson had one more season as the Yankees setup man in 2013 before Mariano Rivera retired at seasons end making Robertson the Yankees closer in 2014. Robertson saved 39 of 44 save attempts in 2014 with one of those blown saves coming on Derek Jeter's final game inside Yankee Stadium giving the Yankees Captain an opportunity to finish his Yankees tenure the only way he knew how, dramatically, before hitting free agency after the season for the first time in his career.
New York offered Robertson a qualifying offer worth $15.3 million on a one-year deal but Robertson declined and ultimately signed a four-year deal with the Chicago White Sox worth $46 million. As a member of the White Sox the former Yankees closer saved 34 games in his first season for Chicago followed by 37 saves in 2016. The problem for Robertson and the White Sox is that much of the team struggled and it seemed like a rebuild was in order which leads us to the 2017 campaign. Robertson was almost traded to the Washington Nationals before the 2017 season but the deal fell through due to disagreements regarding finances leading him to start the season as the White Sox closer. The White Sox fell further and further out of contention leading the team to trade Robertson along with Frazier and Kahnle back to the Yankees for Tyler Clippard and a prospect package.
At the time of the trade Robertson was sporting a 4-2 record with a 2.70 ERA and 13 saves in 33.1 innings pitched. If you don't remember Robertson's pitching style the right-hander has an overhand delivery that allows his four-seam fastball to reach 92-93 MPH comfortably and 95-96 MPH when he really reaches back for some heat. Robertson also sports a curveball which he throws as a secondary pitch and an occasional circle changeup that he throws mainly to left-handed hitters.
Robertson and his wife, Erin, started the charitable foundation called "High Socks for Hope" back when he was with the Yankees with the hopes of helping the victim's in Tuscaloosa, Alabama deal with the tornado strikes in 2011. Robertson agreed to donate $100 for every strikeout he recorded during that season and for his work was named the 2011 Marvin Miller Man of the Year Award. Now Robertson, his beautiful wife Erin and their two children Luke Joseph and Violet Grace are back in the Bronx and back in Yankees pinstripes and we couldn't be any happier.
Welcome back to the team David and more importantly welcome back to the family!!!! We missed you.