"Your'e not buying this 'austerity' crap either, are you?"
Earlier in the offseason, before any Top 50 free agents were signed and before any major trades had gone down between teams, The Greedy Pinstripes (long before River Ave Blues, Pinstripe Alley and other notable Yankee publications) took a look at how the New York Yankees could not only sign one of Manny Machado or Bryce Harper, but both. Furthermore, we broke it down by the penny, with some help from projections from MLB Trade Rumors and others, to show you that the team could sign both mega free agents AND stay under the luxury tax threshold for the 2019 season. Now that a few moves have been made, a few hefty salaries have been added, and a few trades have been made let's take a look at if this is still the case for the Bombers.
Guaranteed 2019 Contracts (AAV in Parenthesis)
Giancarlo Stanton - $26 million ($25 million)
13-year deal worth $325 million with a full no-trade clause, an opt-out clause after the 2020 season, and a 2028 team option worth $25 million with a $10 million buyout. Stanton also receives $50,000 for each All-Star appearance, Silver Slugger Award and Gold Glove Award. Stanton also receives $100,000 per MVP Award and $500,000 for each World Series MVP Award achieved throughout the contract. If Stanton does not opt-out after the 2020 season the Miami Marlins will retain $30 million in Stanton's salary.
Masahiro Tanaka - $22 million ($22,142,857 million)
7-year deal worth $155 million with a full no-trade clause.
Jacoby Ellsbury - $21,142,857 million ($21,857,143 million)
7-year deal worth $153 million including a team option for the 2021 season worth $21 million and a $5 million buyout. Ellsbury also contains a full no-trade clause written into his contract.
Aroldis Chapman - $15 million plus $2.2 million signing bonus ($17.2 million)
5-year deal worth $86 million including an $11 million signing bonus paid in equal increments ($2.2 million) annually throughout the length of the contract. Chapman has an opt-out clause after the 2019 season and a full no-trade clause through 2019. Chapman has a modified no-trade clause for 2020 and 2021 if he does not exercise his opt-our clause that keeps him from being traded to a West Coast team.
JA Happ - $17 million ($17 million)
2-year deal worth $34 million including a vesting option for 2021 worth $17 million if Happ pitches 165 IP or makes 27 starts in 2020.
CC Sabathia - $8 million ($8 million)
1-year deal worth $8 million
Brett Gardner - $7.5 million ($7.5 million)
1-year deal worth $7.5 million
Total: $118,842,857 million (119,600,119 million)
All salaries via Spotrac.com
It is worth mentioning the possibility that the Yankees could, and should in my opinion, move Jacoby Ellsbury and his contract by any means necessary. Ellsbury has two-years left and roughly $43 million, plus the $5 million buyout for the 2021 season, left on his contract. If the Yankees could eat up to half of that to move him, I would call that a victory for New York, regardless of the return. Of course, Ellsbury has a full no-trade clause and would have to accept any trade that the Yankees can come up with, but the likelihood of decreased playing time could force the hand of the $153 million man. Also, there is at least the possibility (I personally find it unlikely and I genuinely hate the idea) of trading Stanton and his mega-contract to a team like the Los Angeles Dodgers who are known to be searching for an impact right-handed bat this offseason to replace Yasiel Puig and Matt Kemp, among others. Unfortunately, we cannot assume that either contracts will be moved this offseason, or throughout the 2019 season.
The beautiful thing about the New York Yankees team as it is currently constructed is that the team is young, controllable, and relatively cheap all things considered. The list of pre-arbitration eligible players is impressive when you look at how many core players are listed below. This could get quite expensive for the team really soon, but for now the 2019 financials are given a bit of wiggle room because of the great job that Brian Cashman and company did building the farm system over the last five-to-ten seasons.
Pre-Arbitration 2019 Salaries – Valued at $555K each (waiver options in parenthesis)
Albert Abreu (3)
Domingo Acevedo (3)
Chance Adams (3)
Hanser Alberto (1)
Miguel Andujar (2)
Luis Cessa
AJ Cole
Thairo Estrada (3)
Clint Frazier
Domingo German
Chad Green
Joe Harvey
Ben Heller
Kyle Higashioka
Jonathan Holder (2)
Aaron Judge
Tim Locastro (3)
Jonathan Loaisiga (3)
Jordan Montgomery
Gary Sanchez
Stephen Tarpley
Gleyber Torres (3)
Luke Voit (3)
Tyler Wade
Total: $13,320,000 million (24 players x $555K each)
Without waiver options for the Minor Leagues the players without a waiver option by their name cannot be sent down to Triple-A without first clearing waivers and cannot be sent down without their consent.
All courtesy of Spotrac.com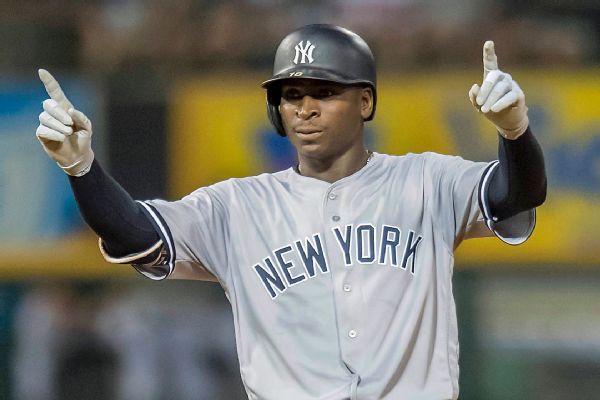 MLB Trade Rumors Projection for 2019 Arbitration Players
Dellin Betances (Arb 3) – $6.4 million
Greg Bird (Arb 1) – $1.5 million
Sonny Gray (Arb 3) – $9.1 million
Didi Gregorius (Arb 4) – $12.4 million
Aaron Hicks (Arb 3) – $6.2 million
Tommy Kahnle (Arb 2) – $1.5 million
James Paxton (Arb 3) – $9.0 million
Austin Romine (Arb 3) – $2.0 million
Luis Severino (Arb 1) – $5.1 million
Let's remember that we can almost guarantee that Sonny Gray and his projected $9.1 million salary will be coming off the Yankees books before the start of the 2019 season. He will be traded, we just don't know who will take on the Yankees right-hander before Spring Training. Some of these numbers could also be high, remember they are just projections, although at the same time these projections could be a bit low as well. MLB Trade Rumors is usually at least in the neighborhood, but all of these numbers are subject to change. I wonder if Didi Gregorius would be willing to throw the Yankees a bone for the 2019 season given that he will miss most of the season after undergoing Tommy John surgery. I am not saying that I think he will, or that I think he should, but it just seems like something a player like Didi would do. Dellin Betances did it for the Yankees on more than one occasion and it just wouldn't surprise me to see Didi do something similar as well.
For those unclear about the arbitration rules, any player who is arbitration three or arbitration four will become free agents at the end of this season. Tommy Kahnle can hit free agency after the 2020 season while the Yankees have at least two more seasons of team control on Greg Bird and Luis Severino.
"Hell no, I'm not buying that. They gonna pay us!"
Top Free Agent Salary Projections via MLB Trade Rumors (AAV in Parenthesis)
Manny Machado – 13-years and $390 million ($30 million)
Bryce Harper – 14-years and $420 million ($30 million)
Total: $60 million annually combined
This part of the equation is the total unknown of the whole discussion. No one knows what both Machado and Harper will sign for. No one knows what the New York Yankees, Philadelphia Phillies, and Chicago White Sox were willing to offer Machado, much like no one knows what a team like the Los Angeles Dodgers could offer to an outfielder like Bryce. Would either be willing to take less in terms of years and more in terms of salary to sign with the Yankees, thus hitting the free agency market again at or around age 30? Nobody knows, probably not even Bryce or Manny themselves at this point, that's why we will use the MLBTR projections and go from there as both of these contracts and their negotiations develop and become public record.
It is worth mention, though, that reports have stated that the Phillies were less-than-enthused about going to ten-years for Machado, so a 13-year contract seems extremely unlikely. The $30 million AAV seems pretty realistic, though.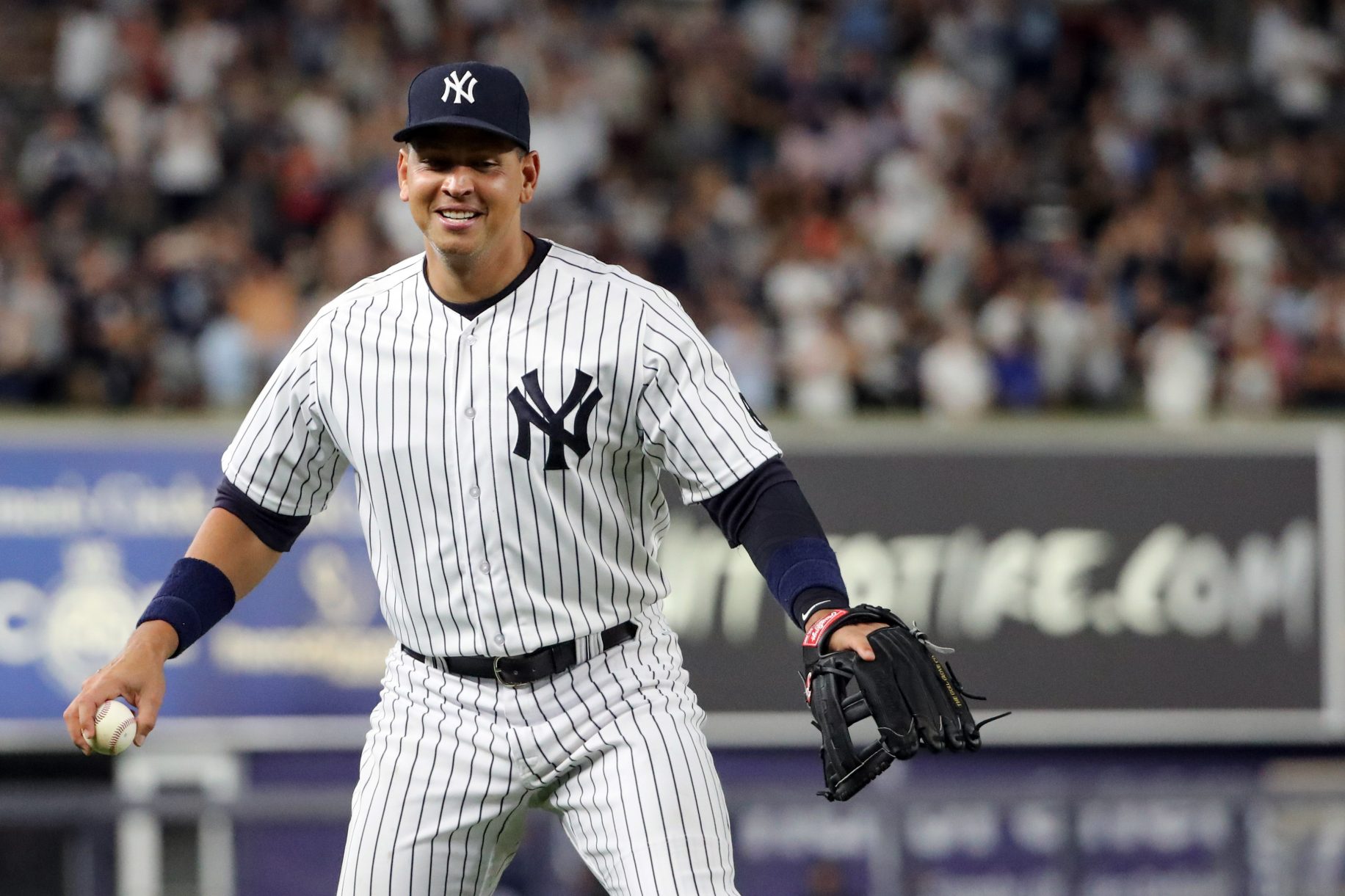 Retained Salaries per Spotrac
Brett Gardner – $2 million buyout of his 2019 team option
Alex Rodriguez – $4 million in deferred salary
Why in the world is this team still paying Alex Rodriguez?
"You take less, I'll take less. Deal?"
The Final Tallies
2019 Total Yankees Salaries Before Machado and Harper
2019 Total Yankees Salaries Including Machado and Harper
2019 Luxury Tax Threshold According to MLB.com
Let's reiterate that these numbers include the projections given by MLB Trade Rumors for the Yankees arbitration eligible players as well as both Manny Machado and Bryce Harper. These are unknowns that cannot be quantified today, these numbers could be higher or lower. These numbers also include the salaries of players like Sonny Gray, Jacoby Ellsbury, Giancarlo Stanton and others who could, however unlikely, be moved by Brian Cashman this winter and throughout the 2019 season. Eating half of Jacoby Ellsbury's salary (let's say $12 million for an even number sake) in a trade and trading away Sonny Gray's $9 million in projected salary alone nets you an extra $21 million to give to Manny Machado. Given that the Yankees are roughly $15 million under the luxury tax as it stands, according to the above, that is $35 million annually that they could give Machado while still staying under the luxury tax threshold. Trading Stanton gives the Yankees at least $26 million to hand to Harper via free agency before going over the luxury tax threshold. For those keeping track at home, the Yankees could potentially clear $61 million following this plan while giving $60 million of it to both Harper and Machado.
"Deal, bro, now let's hug it out. See you in the Bronx!"
Ask yourself this. If the Boston Red Sox were sitting right on the line of the luxury tax would they trade an immense talent like Giancarlo Stanton to make room for Bryce Harper? I think not. Ask yourself this as well, would the Red Sox simply keep Stanton and not sign Harper because of the potential luxury tax threshold penalty? Hell no, so why should the Yankees?
In closing, can the Yankees sign one of Manny Machado or Bryce Harper without going over the luxury tax threshold? It looks highly unlikely, but with some maneuvering it is at least possible. Can they sign them both and stay under the magical number of $206 million? Absolutely not, not as the team is currently constructed anyway. Not when you consider that the Yankees will need to add salary at some point this season, either via the trade market or by purchasing contracts from Triple-A throughout the 2019 season. Should this stop the Yankees from trying to acquire both of these generational talents this offseason? Hell no, but will it? Stay tuned…