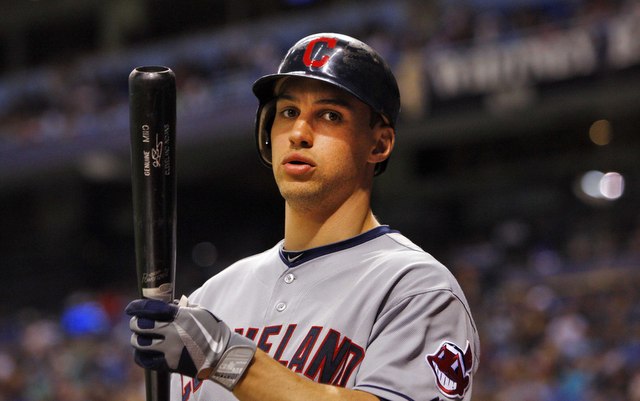 In this post we will revisit an idea that we had in our first off season as a Yankees blog in 2012, that the Yankees should go after Grady Sizemore on a minor league deal. Grady missed all of the 2013 season after missing the 2012 season as well but seems to FINALLY be healthy, should the Yankees take a waiver on him? Yes please!
The last time the Yankees went out and signed an oft injured former star who was young enough to still be in his prime but opted to play for the Yankees as a part time player they signed INF Eric Chavez. The Yankees will presumably want some situation guys off the bench next year much like they did with Travis Hafner and Kevin Youkilis this season. I see no way that either of them comes back to the Yankees but I may have someone in mind who can match or exceed their production, not that I am setting the bar all that high. I think it is time for the Yankees to take yet another waiver on a guy who's career has been slowed due to injuries and that is Grady Sizemore.
It is hard to believe that Grady will only be entering his age 31 season entering the 2014 season and what was such a promising career has been abruptly halted by injuries. Grady has only played in roughly 100 games combined in the last four seasons including missing the entire 2012 and 2013 seasons.The good news is encouraging though as all scouting reports I have seen suggest that he seems more fiery and healthy then ever, which is a good sign for him and make him a good sign for the Yankees.
Contrary to twitter rumors this IS Grady Sizemore and NOT me...
Grady signed a 1 year $5 million deal for the 2012 season giving the Indians a home town discount and gave them nothing for it. Unless he just wants to stay with the Indians since they have consistently stayed with him, and I would not blame him whatsoever, I do not see a scenario where he does not sign a one year deal and/or a minor league deal. Those kind of deals basically mean NO risk EXTREMELY HIGH reward and the Yankees tend to get the better end of those kind of deals. The Indians making the playoffs last season would obviously make them attractive to any free agent, especially Sizemore, but an outfield that already has Nick Swisher and Michael Bourne may send a whole other message, logjam.
Grady Sizemore has a career batting average in the .280's against right handed starters with 105 of his 139 career home runs against righties. He has drawn twice as many walks career against a right handed starter then he has a left handed one and three times as many steals against right handed pitchers. He screams platoon player for the Yankees in the same situation as Ichiro and Vernon Wells have been this season. He is a well below average hitter against left handed pitching.
Not to mention that Grady and his girlfriend would also be a welcome addition to the wives and girlfriends section, I'm just saying.