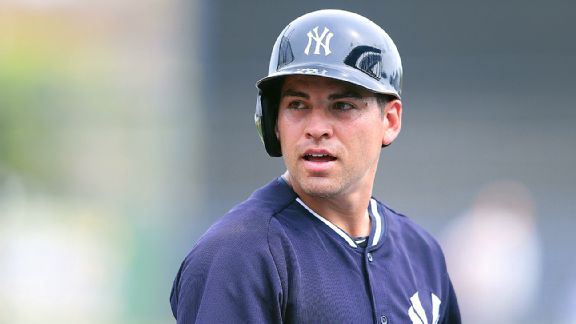 Jacoby Ellsbury is expected to do another workout today containing the same things he did yesterday, hitting, running, and fielding. Ellsbury is supposed to pick up the intensity a little today to really test the tight calf. Hopefully he comes through alright. Ellsbury will not be in a game any earlier than Tuesday.
Hiroki Kuroda is pitching at the minor league complex today and expects to be stretched out to somewhere around 90 pitches, like Masahiro Tanaka today. Austin Romine and John Ryan Murphy are heading down to the minor league complex to catch a slew of potential Yankees relievers. Seems like that answers the backup catcher question, although I don't think it was much of a discussion in the first place.
Kelly Johnson is getting his second start at first base, looks like he won the backup first base job, and the back up everywhere else job, as well as the starting third basemen job. Adonis Garcia, the outfielder, gets another start at third base today while Johnson is at the other hot corner.
Vidal Nuno, David Phelps, and Adam Warren all threw bullpen sessions today before the game.
Chad Jennings with the assignments for the day. more to come I'm sure after the game.
Today's second string: C Jose Gil, 1B Francisco Arcia, 2B Yangervis Solarte, SS Ali Castillo, 3B Adonis Garcia (there are no backup outfielders listed, though Mason Williams and Ramon Flores are up from minor league camp to make the trip).
· Today's scheduled relievers: Danny Burawa, Fred Lewis, Shane Greene, Yoshinori Tateyama, David Herndon (with Mark Montgomery, Aaron Dott, Jeremy Bleich and Pat Venditte up from minor league camp just in case the Yankees need innings).
· Batting practice groups in Tampa:
Group 1: Carlos Beltran, Derek Jeter, Brian Roberts, Alfonso Soriano, Ichiro Suzuki
Group 2: Russ Canzler, Jacoby Ellsbury, John Ryan Murphy, Austin Romine, Mark Teixeira