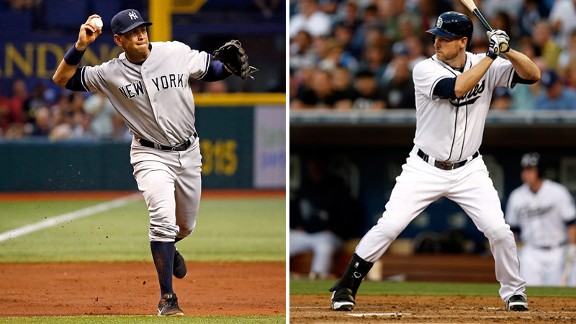 Somebody slap me and tell me to stop getting ahead of myself. Okay I can't help it but a discussion in the comments section of the site got me imagining next season and an infield with both Alex Rodriguez and Chase Headley. Again, I realize I am way ahead of myself here as Headley is a free agent after this season and there is no guarantee that Alex even makes it onto the field but let's pretend we're playing MLB The Show with retirements and injuries turned off. Could the Yankees find enough at bats for both men at the hot corner? If Joe Girardi got creative then the answer without a doubt in my mind would be yes.
First let's cover Alex. He has basically missed two consecutive seasons after a hip surgery and various lower leg injuries on top of his steroid suspension for 2014. The fact that he could even make the team and be effective is a stretch in itself. The fact of the matter is he is owed money on a guaranteed deal and unless he retires and forfeits his money, which he won't, the Yankees are stuck with the contract. There is no trading the guy at this point and even if we did we would have to eat the salary anyway so why not get what you can get out of him and move on after 2016. Next season Alex would essentially become what Hideki Matsui once was, Raul Ibanez once was, what Alfonso Soriano started out being this season, and what Carlos Beltran is now, a full time DH. Sure you could plug him in at third base from time to time to get an extra right handed bat in there and give Headley a rest but most of his at bats would have to come from the DH slot.
Headley is where the Yankees get versatile. Granted this was two knee surgeries ago (a surgery on each knee) but Headley was a shortstop in high school and in his early years of college so to plug him there in an emergency, late in a game, etc. should definitely not be out of the question. Headley plays the hot corner well and in my opinion could easily learn the first base position like Kelly Johnson and Brian McCann have this season. Headley has also played left field in the Major Leagues so in Yankee Stadium he could play either left or right field in my opinion. Headley would give Girardi many options to mix and match and get the most out of his defense and his lineup without taking at bats away from other deserving players.
Girardi would have to close the binder and get creative but the Yankees could definitely make it work next season and beyond with both Rodriguez and Headley if they wanted to.