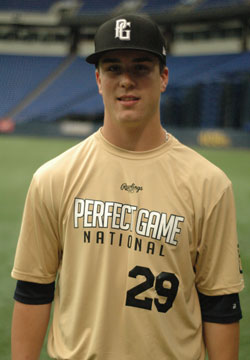 Prospects Month is in full swing and we're already up to our 16th best prospect in the farm system, Austin DeCarr.
Here is the write up from Kyle McDaniel on DeCarr:
Austin DeCarr
, RHP
Video
: DeCarr was the Yankees 2nd pick this year, signing in the 3rd round for an above slot $1 million after being in contention for their first pick, which ended up being Lindgren. DeCarr is an interesting case as a post-grad student who blew up on the showcase circuit the summer after his senior year. The Yankees tried to sign him as an undrafted free agent last summer, but DeCarr wanted to play the year out and see where it got him. His stuff improved in the spring, sitting 91-94 and hitting 96 mph with an above average to plus curveball, but his fringy changeup and command wavered at times while his feel for the curveball also came and went. There's a chance for two plus pitches and a mid-rotation starter, but DeCarr is a year older than his prep counterparts and looked more like a late inning reliever to some scouts this spring.
1.
2.
3.
4.
5.
6.
7.
8.
9.
10.
11.
12.
13.
14.
15.
16. Austin DeCarr
17. Tyler Wade
18. Juan DeLeon
19. Dante Bichette Jr.
20. Domingo German
21. Slade Heathcott
22. Nick Rumbelow
23. Jose Ramirez
24. Ramon Flores
25. Gosuke Katoh
26. Chasen Shreve
27. Taylor Dugas
28. Johnny Barbato