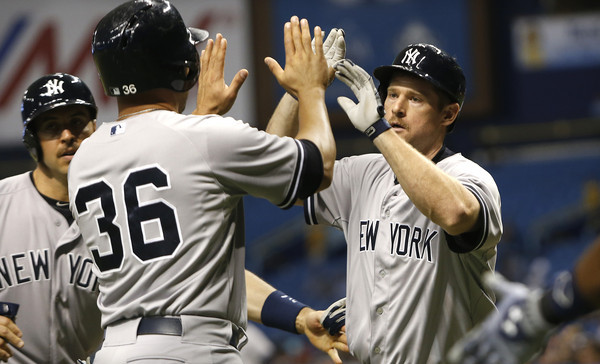 CC Sabathia recorded his first win of the season, tossing seven solid innings of four-run ball to lead the Yankees past the Rays, 11-5, on Monday night at Tropicana Field.
CC Gets a W: Sabathia looked as sharp as ever for the Yankees in this one, allowing just three earned runs and six hits while walking two and striking out nine. He yielded just two baserunners from innings 2-6, giving the Yanks' bats plenty of time to pull away.
662: Alex Rodriguez continued to perform well in St. Petersburg with a solo home run in the first, crushing a 2-1 fastball high into the left field seats for his eighth four-bagger of the year. It was A-Rod's first long ball on the road since April 17, when he also went deep against the Rays.
The Best Kind of Two-Out Hit: Batting with men on the corners and two outs in the fourth, Chase Headley broke a 1-1 tie with a clutch three-run homer to right -- a line drive off the Rays' Alex Colome that reached the crowd in a hurry. Brian McCann had popped out prior to Headley's blast -- costing New York a sac fly opportunity -- but the Yankees' third baseman was there to bail him out.
Other Souvenirs: The Yankees apparently weren't content with being up 4-1, though, and in the fifth, went back to work on offense. Carlos Beltran got their late onslaught started with a solo shot in that frame, followed shortly by a Brett Gardner three-run bomb in the sixth and a Mark Teixeira two-run dinger in the ninth.
What a Weird Way to Finish it: Tampa Bay's catwalks have always proved to be an obstacle for visiting teams, and the Yankees confirmed such a statement with two outs in the ninth. Indeed, on a routine fly to left from Tim Beckham, the Trop's defining featured ricocheted the ball toward short -- where it was still somehow caught by Didi Gregorius to end the game.
Next Up: The Yankees will try to get a strangle-hold on this series Tuesday when they meet the Rays again on the Gulf Coast, beginning at 7:05 p.m. ET and airing live on the YES Network. Nathan Eovaldi (3-0, 3.97 ERA) will take the mound for the Yankees hoping for a third consecutive victory, opposing struggling Rays ace Chris Archer (3-4, 2.59 ERA).