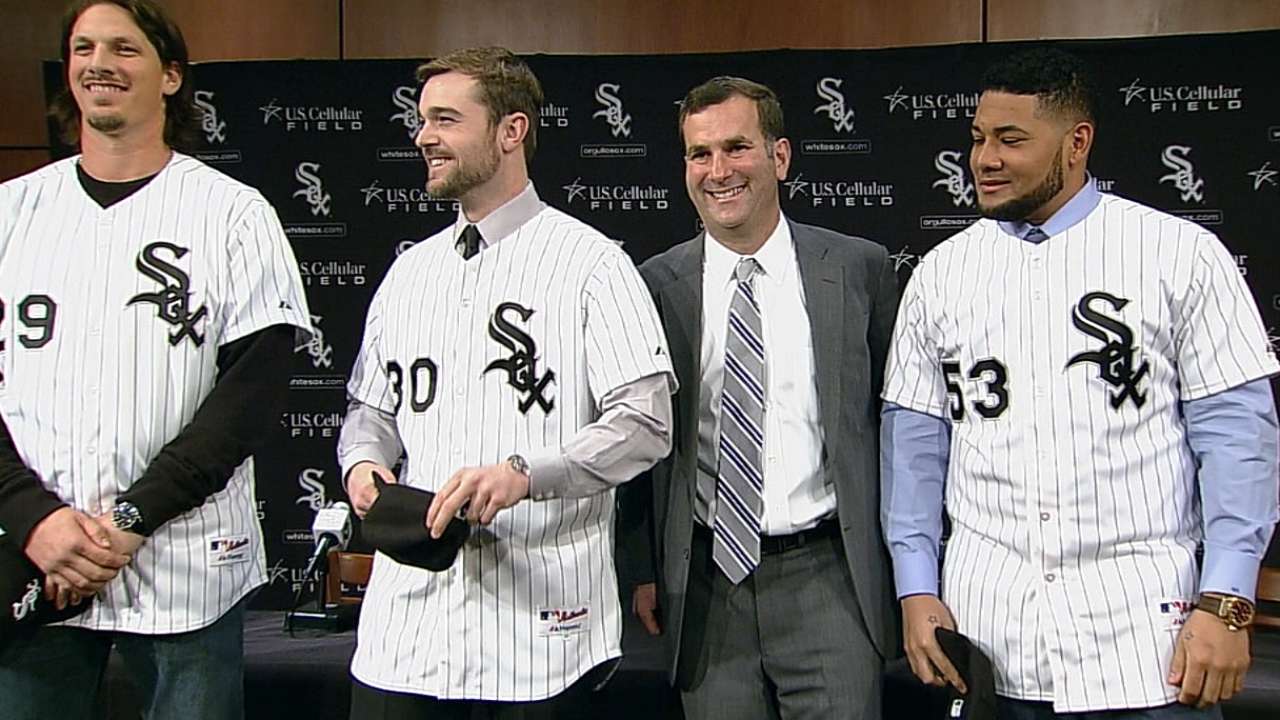 The New York Yankees are in the middle of a division race with the Tampa Bay Rays, the Baltimore Orioles and the Toronto Blue Jays in a division that could come down to who makes the best moves at this year's July 31st trading deadline. The trading deadline is where the pretenders and contenders are determined and the buyers and sellers do their things. The New York Yankees seem to be like they will be big time buyers at this year's trade deadline while teams like the Chicago White Sox will be sellers. Do the Yankees and White Sox matchup for a potential trade this summer?
First thing is first, what are the Yankees true needs this summer? The team could use an upgrade at second base, right field and of course pitching. New York's bench isn't great but adding Stephen Drew to the bench along with Chris Young the team has some home run potential off the bench joining Garrett Jones. Who is currently playing those positions for Chicago you ask?
Jeff Samardzija is posting a 5-4 record with a 4.56 ERA in his first 16 starts and at the time of this writing which is not really encouraging for the club. Samardzija has a much better record with much better peripherals in his career but you have to remember that the bulk of that career came in the National League Central, not the American League and definitely not the American League East. Samardzija has a live arm and has the fundamentals that you simply cannot teach but he's giving more hits up this season than Nathan Eovaldi and may not exactly be cut out for the AL.
Chicago may also move David Robertson after signing him to a bulky four year deal to close games with the White Sox. While it seems unlikely that the Yankees would have two huge contracts at the back end of their bullpen with Robertson and Andrew Miller but one can dream, can't they? Robertson has 16 saves a a 2.76 ERA to go with a 1.01 WHIP so adding him to Miller and Dellin Betances is every Yankees fan's dream.
No offense to Carlos Sanchez, Conor Gillaspie, Alexei Ramirez, Gordon Beckham and others but the White Sox infielders simply don't fit into what the Yankees need. None of them hit for an especially high average and most of them are no better, or worse, than Drew at this point in the season. The outfielders on the other hand are a different story as the team currently trots out Melky Cabrera, Adam Eaton and Avisail Garcia. Melky is hitting just .251 through his first 299 at bats with little power while Eaton is posting similar stats through a comparable sample size. Garcia on the other hand is hitting .273 with seven home runs through 253 at bats and would add a right handed bat to the Yankees outfield. Garcia sounds like a great addition to the team until you remember he's just 24 years old and has just 716 at bats to his name in his career making Chicago more likely to build around him rather than sell him off this July.
Chicago may unload some contracts this summer but I can't see many, or any, of them coming to New York unfortunately. While Melky and Eaton may be better than Beltran there isn't a reason right now to make a trade just for the sake of it. The same can be said for the infield as well as Chicago's infielders are struggling just as much as the Yankees are at key spots, namely second base, while the pitching will be the key to the White Sox selling plan. If the White Sox want to make Chris Sale available or Robertson available for cheap then I'm at least listening but if not I think I'll have to pass at this point.