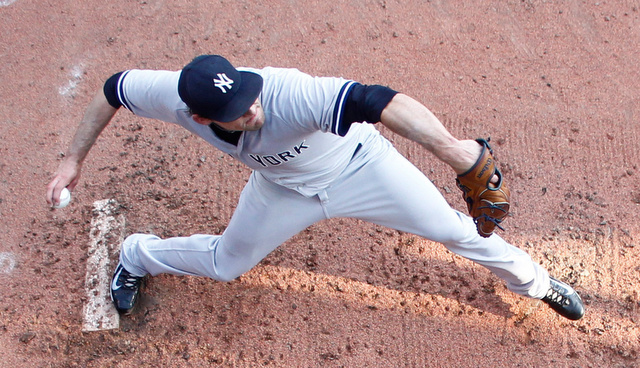 The New York Yankees and the Atlanta Braves will finish off their three game set this afternoon in Turner Field before the Yankees make the trip to Fenway Park for a three game set. The Yankees offense exploded in the first game of the contest which marked the return to Atlanta for Brian McCann while the pitching matchups sent to the mound by New York have done the Braves no favors. The pitching matchups for Atlanta doesn't get any easier today when the Yankees send Nathan Eovaldi to the mound to face off with the Braves starter Julio Teheran. The game will be played at 1:35 pm ET and can be seen on the YES Network and MLB TV.
"Eovaldi gives up too many hits" so he has been correcting that lately giving up less and less hits per start. "Eovaldi can't go deep into games" so he threw eight shutout innings last time out against the Houston Astros and has been pitching later and later into his starts the longer the season has gone on. Let's try this, "Eovaldi can't improve on his 1-0 career record and 0.90 ERA in three career starts against the Atlanta Braves this afternoon." Bet you won't!
Teheran has pitched well during the month of August and may be the Braves best pitcher at the time of this start. Teheran has posted a 2.73 ERA in five August starts and has held opposing offenses to just a .210 batting average against after a change in how he approaches at bats and opposing hitters. Unfortunately for the Yankees the Braves were able to squeeze out one more August start from Teheran, let's hope New York can turn those stats around this afternoon.
New York needed a little break in their schedule and they are seemingly getting in with this series and their series with Boston. The team is not getting any favors done for them by Toronto as the team cannot seemingly lose with any consistency this season so it's more and more imperative that New York wins every game they are supposed to win, that includes this afternoon's game. Go Yankees!