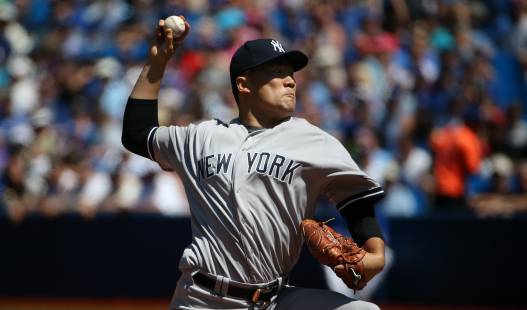 The New York Yankees and the Baltimore Orioles will continue their three game set this evening at Yankee Stadium as both teams continue to push towards the playoffs. The Yankees are still sticking around in the American League East Division while holding what seems to be a comfortable lead for the first AL Wild Card playoff spot while the Orioles are falling farther and farther behind in the second Wild Card chase. New York may not mathematically eliminate Baltimore this week with a series victory but they could essentially end their season with a win adding more incentive to winning these games. The Yankees will send Masahiro Tanaka to the mound looking to achieve that task while the Orioles look to stay alive with Kevin Gausman on the mound. The game will be played at 7:05 pm ET and can be seen on the YES Network and MLB TV.
Tanaka will be making his fourth career start against the Orioles this evening looking to improve on his 1-1 record and 3.74 ERA against them. Tanaka has won two of his last three starts for New York and has given the Yankees length pitching at least six innings in every outing he has made since June 27th of this year.
Gausman will be making his 11th career start against the New York Yankees tonight and has actually pitched well against them in his career. Gausman owns a career 3-2 record with a 2.94 ERA against the Bronx Bombers and will look to end a six-start winless streak tonight at the hands of the Yankees.
New York welcomes CC Sabathia back to the team and back to the starting rotation tomorrow afternoon just before welcoming the red hot Toronto Blue Jays to town for a huge four-game series in the Bronx. September baseball that is actually meaningful is awesome, although it has taken years off my life admittedly, and it's only going to get more intense making all these "winnable" games all the more important including this game tonight. Just win, Go Yankees!