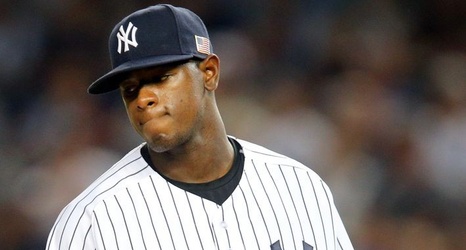 We all know it's coming, the fall from the rankings that the New York Yankees are most likely to endure. After losing two straight from Baltimore the team followed that up with three straight losses to the Toronto Blue Jays inside Yankee Stadium. The Yankees did win the first game of the Baltimore series and the last game of the Toronto series but I have a sneaking suspicion that the rankings and their God's are not going to be kind to the Bronx Bombers this week.
Let's not delay the inevitable, the Yankees position. New York fell one spot this week to fall all the way down to the #9 position. The rest of the American League East can be found at the #3 position with the Toronto Blue Jays, the #16 position with the Tampa Bay Rays, the #17 position with the Baltimore Orioles and the #19 position with the surging Boston Red Sox.
The biggest rise of the week goes to the New York Mets who rose four spots all the way to the #5 position while the biggest fall of the week went to the Washington Nationals after the team fell three spots to the #14 position. The Top Five teams according to the rankings are the #1 St. Louis Cardinals, the Pittsburgh Pirates, the Toronto Blue Jays, the Kansas City Royals and the New York Mets. The five worst teams according to the rankings are the #26 Cincinnati Reds, the #27 Miami Marlins, the #28 Colorado Rockies, the #29 Philadelphia Phillies and the #30 Atlanta Braves.
It's been a tough week for certain teams in the pennant chase and it's been a great week for others, it's just unfortunate that the Yankees were on the bad side of things this week. No worries, the team can regain that #6 or #8 spot they have held for most of the season with a good week this week, they just have to play like they want it and play like they mean it. See if they can do it next Tuesday when we bring you these rankings once again.