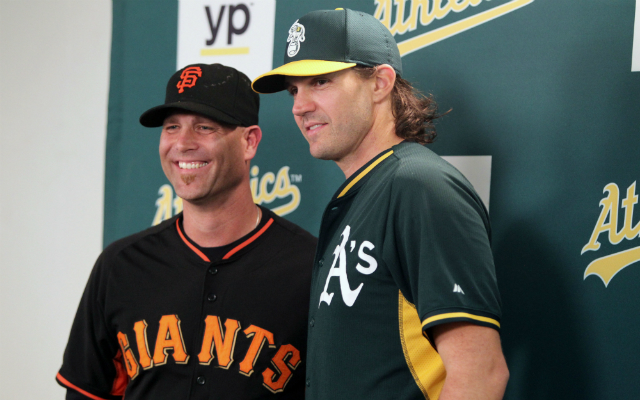 Who doesn't remember the latter part of the "Dynasty Years" with the New York Yankees when the same teams kept coming up and meeting New York in the postseason. You had the Minnesota Twins, you had the Los Angeles Angels of Anaheim, you had the Boston Red Sox and you had the Oakland Athletics. Leading the charge for the Oakland A's was a three-headed starting pitching monster that few could emulate, or beat for that matter, in Mark Mulder, Barry Zito and Tim Hudson. When all was said and done all three men left Oakland for greener pastures, pun intended money reference, and when all is said and done in 2015 the threesome will all officially be retired.
It was announced earlier during the season that Hudson, currently listed on the San Francisco Giants roster, would retire and around lunch time on Monday Zito, who will retire an Athletic after leaving town also for the San Francisco Giants, announced that he would be doing the same. Two great ambassadors and representatives in the game are leaving after 2015 and while most are sad I have a sneaking suspicion that the New York Yankees are not.
Zito and Hudson had varying degrees of success against the Yankees in their careers, Hudson more than Zito obviously, so I thought it would be fun to go over exactly what each did against New York respectively. The stats and such are meaningless in the grand scheme of things by today's standards but just have fun with it as we inch closer to the World Series and the long, cold winter that we call the offseason.




Zito:
| I | Split | G | PA | R | H | 2B | HR | SB | BB | SO | BA | OBP | SLG | OPS | BAbip | tOPS+ |
| --- | --- | --- | --- | --- | --- | --- | --- | --- | --- | --- | --- | --- | --- | --- | --- | --- |
| | New York Yankees | 16 | 407 | 61 | 93 | 14 | 17 | 6 | 46 | 78 | .264 | .354 | .460 | .814 | .293 | 127 |
| I | Split | W | L | ERA | G | IP | H | R | ER | HR | BB | SO | WHIP | SO9 |
| --- | --- | --- | --- | --- | --- | --- | --- | --- | --- | --- | --- | --- | --- | --- |
| | New York Yankees | 3 | 9 | 5.20 | 16 | 90.0 | 93 | 61 | 52 | 17 | 46 | 78 | 1.544 | 7.8 |
Hudson:
| I | Split | G | PA | R | H | 2B | HR | SB | BB | SO | BA | OBP | SLG | OPS | BAbip | tOPS+ |
| --- | --- | --- | --- | --- | --- | --- | --- | --- | --- | --- | --- | --- | --- | --- | --- | --- |
| | New York Yankees | 12 | 329 | 35 | 70 | 13 | 7 | 5 | 25 | 58 | .237 | .298 | .353 | .651 | .270 | 92 |
| I | Split | W | L | ERA | G | IP | H | R | ER | HR | BB | SO | WHIP | SO9 |
| --- | --- | --- | --- | --- | --- | --- | --- | --- | --- | --- | --- | --- | --- | --- |
| | New York Yankees | 2 | 4 | 3.83 | 12 | 80.0 | 70 | 35 | 34 | 7 | 25 | 58 | 1.188 | 6.5 |