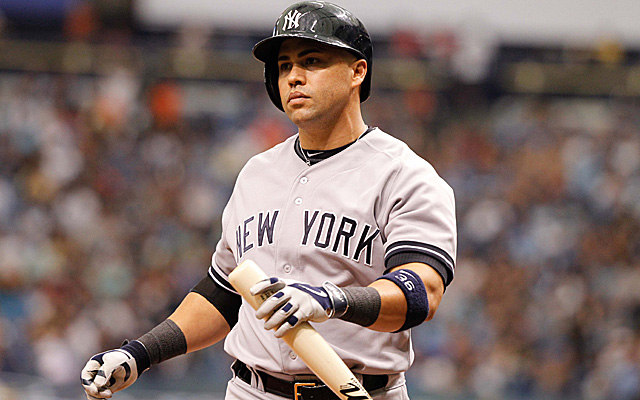 The New York Yankees and their GM Brian Cashman are being aggressive this winter, maybe overly aggressive, in the trade market and have sent off a few key pieces from the 2015 squad already. Cashman has named a few other trade candidates including their closer Andrew Miller, a starting pitcher Ivan Nova and outfielder Brett Gardner. If the Yankees want to trade an outfielder this winter shouldn't it be Carlos Beltran and not Gardner?
Carlos Beltran is 38-years old and will be 39-years old for much of the 2016 season. Beltran showed last season that his defense, and specifically his knees, are not what they used to be. Let's not beat around the bush, if Beltran was average in right field defensively last season I would be extremely surprised. The good news for any American League team is they still have the DH position, the bad news specifically for the Yankees is that Alex Rodriguez will occupy that roster spot for the next two seasons. The Yankees could ride out Beltran for one more year, his bat is not one that forces his way into the lineup but he did lead the Yankees in batting average last season, but the team would love to be out of his $15 million commitment for next season. This also clears the path for Aaron Judge.
Judge may start the season in Triple-A regardless giving Aaron Hicks a chance in right field (assuming Beltran is traded of course) and either Slade Heathcott or Mason Williams the fourth outfielder job. Judge didn't get much experience in Scranton last year and when he did he struggled mightily at the plate for much of the year. Judge could use some more seasoning at the upper levels for his own sake and for the betterment of the team. Either way Judge will be ready long before the Beltran contract is up and that's a problem for New York.
I have mentioned it many times and while I don't have anything concrete to back me up I think many would agree anyway. You can over-groom a prospect. At some point their development does a complete 180 degree turn and you begin to reverse the trend. I don't want that to happen with Judge so if he is tearing the cover off the ball in May and June you may be forced to bring him up much like the team did this past season with Greg Bird. If not then you still have the security of Ben Gamel, Williams and Heathcott on the 40 man roster. Trading Beltran is a win-win, trading Brett Gardner is not.