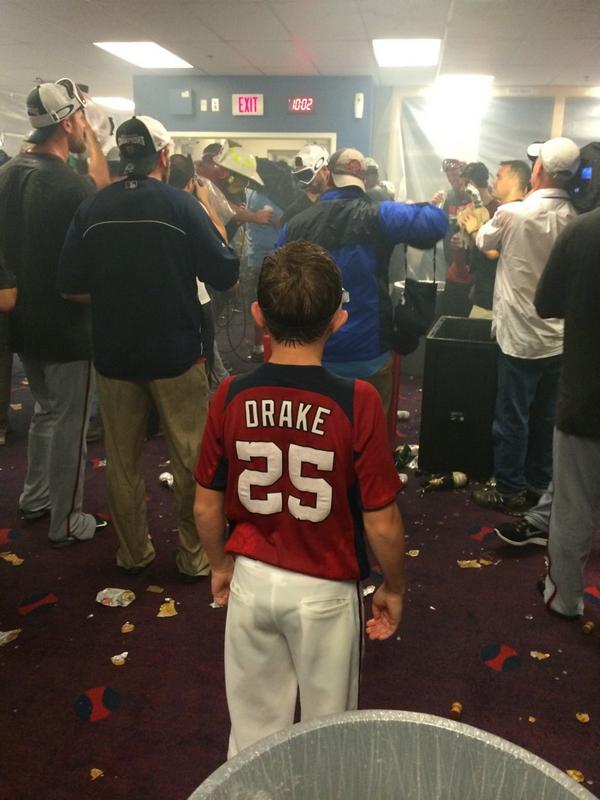 The now former Chicago White Sox first baseman and DH Adam LaRoche has officially retired from the game he loves, Major League Baseball. Many people were shocked when they learned of the news, LaRoche isn't old and he had one more year on his contract worth $13 million so why would he walk away? Family, that's why and good for him!
The White Sox organization led by President Kenny Williams confirmed that they asked LaRoche on two different occasions to "dial it back" with his 14-year old son and his time in the clubhouse. Drake LaRoche, son of Adam LaRoche, has spent a good amount of time in the White Sox clubhouse apparently and the organization was worried it would affect the team's ability to focus in 2016. Kenny, it's spring training. Loosen up.
LaRoche is 36-years old and is currently with his sixth team in his career. As a veteran player he wanted to spend time with his family while he could. Again, it's spring training. If Drake is traveling with the club and hanging out during the season that's one thing, this is another. LaRoche's decision has been abrupt and quick but it's the same decision I think I would have made. The game will one day leave LaRoche behind, if he ultimately doesn't leave it first, but his family will always be there. His family was there before the game. Good for him for choosing family first over a game. A job. Any job. Good for him.
Look, I truly do see both sides of it. Williams doesn't want LaRoche's son distracting the team (although he mentioned numerous times in his interviews that Drake was far from a distraction) and Williams wants to win first and foremost. I also see the side of LaRoche and am left wondering what Prince Fielder, Cal Ripken Jr., Ken Griffey Jr. and a slew of others would have been in this game if they had not come to the ballpark with their fathers on a day-to-day basis. It's a family game and family comes before any job or any game. Again, the game is going to leave LaRoche behind one day and will turn its cold shoulder on him but Drake won't.
In a world of deadbeat dads and missing fathers who don't even know their kids it's refreshing to see someone put their children and their family first. If I ever meet you Mr. LaRoche I am going to shake your hand because in my eyes you made the right decision. You made your money presumably, you've had your fun and your family comes first. The way it should be.