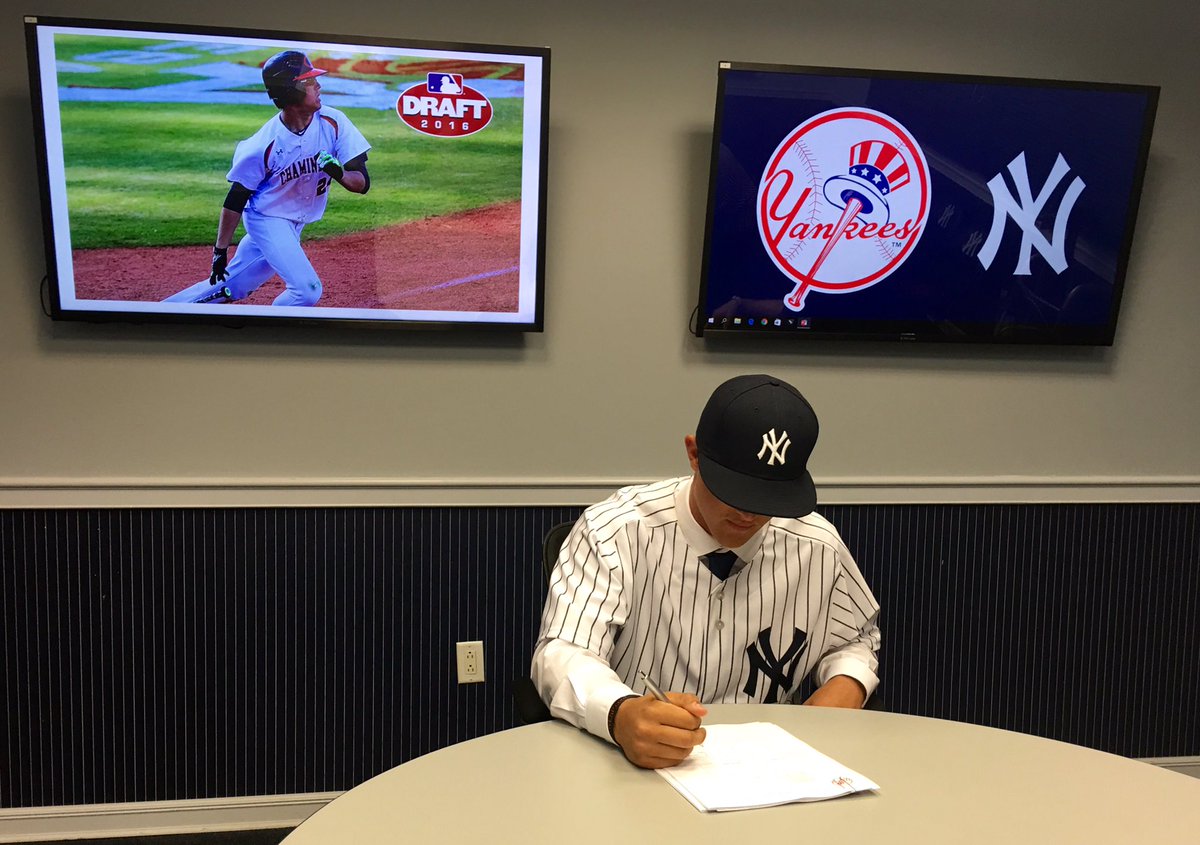 The New York Yankees have signed each of their Top 10 draft picks from this year's MLB First Year Players Draft but none of them may be more important than the 18th overall pick Blake Rutherford. Rutherford is one of those special talents that, if developed correctly, could become an absolute powerhouse in the league and in center field for the Yankees for a long, long time. Rutherford is special and after signing with the Yankees this week well ahead of the deadline to sign the long process to the Major Leagues can begin. Let's meet him. This is Meet a Prospect: The Blake Rutherford Edition.
Blake Rutherford was born on May 2, 1997 and attended Chaminade College Preparatory School at the time the Yankees came calling with the 18th overall pick in the 2016 Draft. As a freshman in Chaminade Rutherford committed to UCLA but has forgone that commitment to begin his professional career with the Yankees. Rutherford headed into the draft as a Top 10 potential pick while some even discussed him going first overall to the Phillies despite concerns that he would not sign.
So with the 19-year old the Yankees got potentially first overall talent and definitely Top 10 talent with the #18 pick. Some said he wouldn't sign but it was clear as you watched the draft that money was not going to keep Rutherford from signing. Rutherford has drawn comparisons to Alex Gordon of the Kansas City Royals since draft day with his arm being a concern that may push him from center field to left field but the power should come eventually. I say again, Rutherford is 19-years old.
At 19 MLB.com finds Rutherford to be an above-average hitters with above-average raw power. Rutherford has great speed on the bases and in the outfield although MLB.com thinks Rutherford will eventually move to right field. Rutherford garnered a 55 score on the 20-80 scale that scouts use by MLB.com with his running coming in at 60, his best score individually.
Rutherford can hit with power to all fields, brings athleticism to the system and has a line-drive swing that I personally enjoy watching. I hope I'll enjoy watching him in Yankees pinstripes for a long, long time. Welcome to the team Blake and more importantly welcome to the family.