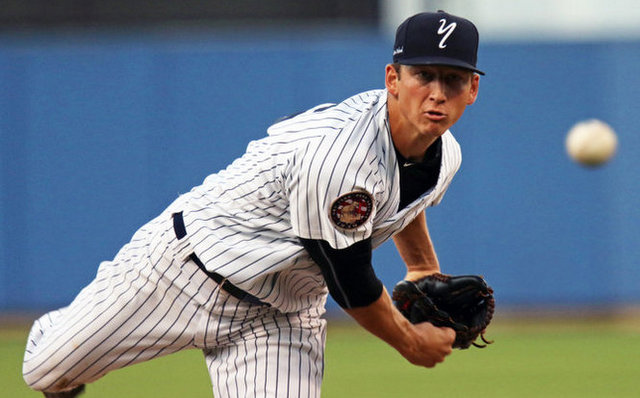 The New York Yankees, much like every team at this point in the season, presumably feels pretty good about their starting rotation right now. Sure, they would have liked to have added more in terms of innings, stability and durability but if you look at things on paper the Yankees, remember that they are in a "rebuilding" year, are doing well. Luis Severino is working on his mechanics, Michael Pineda is in a contract year, CC Sabathia has shown an ability to pitch and not just throw, Masahiro Tanaka is pitching towards an opt-out clause in his contract, Chad Green should be back healthy and Luis Cessa was awfully effective last year for New York. The problem for the Yankees though is that these games are not played on paper and you always need a Plan B. Here are a few Plan B's that the Yankees should not be sleeping on as we inch towards the 2017 regular season.
Brady Lail, for some odd reason, always reminds me of Rookie Davis (the prospect traded for Aroldis Chapman last spring) and for some odd reason Rookie Davis always reminded me of Adam Warren and David Phelps. None were aces but all are and/or have the potential to be solid MLB pitchers who can get MLB hitters out and give you five-or-six innings every fifth day. Lail, who was originally drafted in the 18th round in 2012, has been a slow riser but he has been an impressive since reaching Double-A. Lail is not going to blow people away or strike out 10+ a game but where he lacks in velocity he more than makes up in command and finesse. Lail throws three offspeed pitches to compliment his low 90's fastball and simply gets opposing batters out, period.
Nestor Cortes broke out in a big way in 2016 while down with the Charleston Riverdogs which propelled him through Tampa and Trenton all the way to Triple-A with the Scranton/Wilkes Barre RailRiders. Cortes, like Lail, is not going to throw 100 MPH or strike out 15 every single game but he simply pounds the strike zone and doesn't beat himself. Cortes, like Lail, pitches rather than throws and they both do it exceptionally well.
James Kaprielian. I know what you're thinking, no one is sleeping on Kaprielian. Well, you may be wrong. Kaprielian entered the 2016 season as the first in line to come out of the minor league system if the Yankees needed an arm but an injury later and most of the 2016 season lost to injury it's hard to feel that confident in Kaprielian heading into this season. Kaprielian did pitch in the Arizona Fall League and seems healthy though so the sky is the limit for the right-hander in 2016. Cautiously anyway.