The final series before the All-Star break is always fun for whatever reason. Maybe it's because we all know a break is coming, the Home Run Derby is on deck and the All-Star Game will be here before we know it next Tuesday on Fox. Or maybe because we see a lot of unconventional lineups and defensive moves as managers give their players their optimal rest for the second half push. No matter which way you look at it these games tend to be pretty fun and this series between the New York Yankees and the Milwaukee Brewers should be no exception. Imagine this, Eric Thames and Aaron Judge both launching bombs out of Yankee Stadium on a nice summer day. Now stop imagining this because it is about to become a reality here in just a few short hours. In the opener of the three-game set the Yankees will send Jordan Montgomery to the mound to face off with Junior Guerra but let's be real, all eyes will be on the opposing offenses and the launching pad that will be home plate inside Yankee Stadium.
Montgomery had a great month of June posting a perfect 4-0 record in five starts with a 2.59 ERA keeping the Yankees head above water for much of the month. Montgomery wasn't sharp in his last start against the Houston Astros though allowing three runs in 5.1 innings of work. Montgomery will have to pitch much better to lead the Yankees to a victory tonight in the Bronx.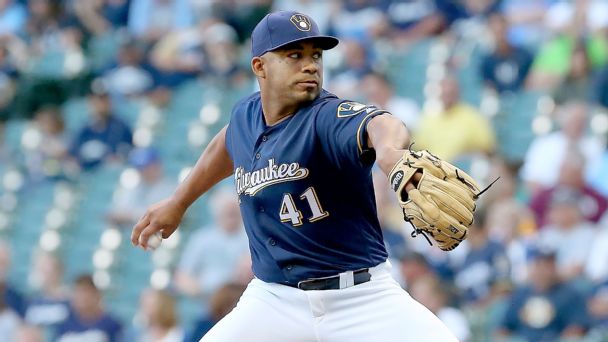 Guerra was not sharp in his last start either against the Miami Marlins giving up four runs in 4.0 innings of work in a 10-3 loss for Milwaukee. Guerra worried the Brewers in his last start as he saw his fastball velocity dip to below 90 MPH on average, although manager Craig Counsell did note that Guerra was working more on his offspeed pitches in the start.
The game will be played at 7:05 pm ET inside Yankee Stadium and can be seen on the YES Network, MLB Network and MLB TV. You can also follow along on the radio and in your cars by tuning into John Sterling and Suzyn Waldman on WFAN. Enjoy the game and as always, go Yankees!