On this day in 2001, I think this affects everyone especially the New York Yankees, the terrorists attacked New York City, Washington DC, and other attempted hijacks across the East Coast. All MLB games were cancelled and the Yankees evacuated Yankees Stadium as a precaution. Almost 3,000 people lost their lives on this day and we will never forget them.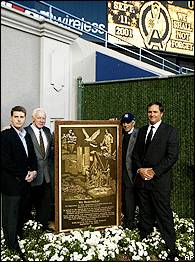 On this day in 2002 Phil Rizzuto and Whitey Ford unveil a monument in Monument Park for the victims of the September 11th tragedy. The Yankees also planted a tree to honor the lives lost one year prior on this day.
On this day in 2009 Derek Jeter became the Yankees all time hits leader when he passed Lou Gehrig with his 2,722nd hit of his career. Gehrig held the record for over 70 years before Jeter broke it in this game against the Baltimore Orioles.