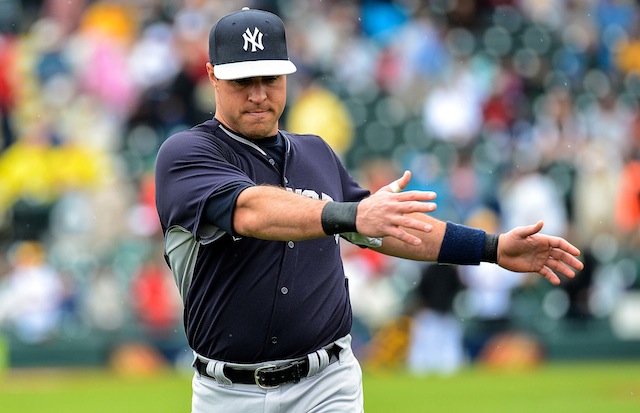 Mark Teixeira is eligible to come off the disabled list for tomorrow afternoon's game with the Tampa Bay Rays and is expected to be activated before game time. The Yankees will obviously need to make a 25 man roster move, who stays and who goes?
Yangervis Solarte seems like a safe bet to stay as well as Brian Roberts so is the odd man out going to be Dean Anna? Unfortunately for Raccoon I think his time has come to end, at least for now. Scott Sizemore has come up and hit the cover off the ball. Sizemore showed an ability to play first base on Thursday night and can play all three of the other infield positions in some capacity. His versatility and right handed bat gives him a slight step up above Anna's left handed, and struggling, bat.
I love Anna, I was a kid in a candy store when we interviewed him as a part of our Prospects Month this past February, but the guy has not hit a lick since coming up. Anna did have his first major league home run and has been eerily absent in the Yankees lineup since and his time in Yankee pinstripes may be coming to an end.
Stay tuned.