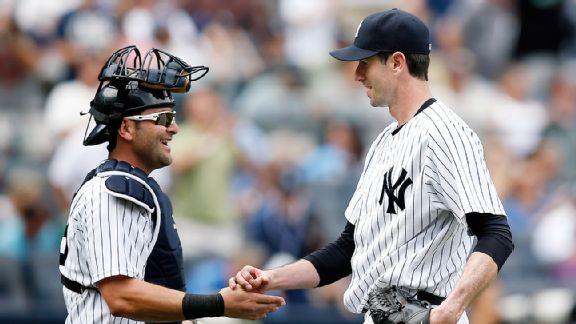 Brandon McCarthy expressed a definite interest in returning to the Bronx in 2015 after his complete game shutout last week against the Houston Astros in Yankee Stadium. The Yankees will likely seek to bring McCarthy back in 2015 to basically give the Yankees another seasoned veteran arm in the starting rotation that will likely replace Hiroki Kuroda in the Yankees rotation after he presumably leaves or retires after 2014. What kind of contract would McCarthy command after the 1.90 ERA he has put up so far in New York?
The perfect comparison here in my opinion would be the man he was replacing in Kuroda. Obviously Kuroda has been signing one year deals for the last three seasons as he remains undecided from year to year about his future plans while McCarthy will likely look for some security in his deal. McCarthy is in the final year of a two year deal worth $18 million that he, until the trade, has not lived up to with Arizona. Kuroda is making $16 million this season after making $15 million in 2013 and $10 million in 2012.
Assuming McCarthy finishes 2014 strong, and not even to the 1.90 ERA standards the fans are beginning to expect, I believe McCarthy's AAV will be closer to Kuroda's 2014 salary than his 2012 salary. Mike Axisa of River Avenue Blues, great site by the way but I am sure you guys already knew that, had McCarthy making around $25 million on a two year deal after this season but I think that may be a little low. I could see McCarthy wanting at least a three year deal, he is just barely 31 years old, and at least $13-$15 million to return to New York and I could easily see the Yankees giving it to him.
While I say I could see the Yankees giving it to him that doesn't necessarily mean that I would give it to him. His history of injuries, the shoulder kind not the freak kind, would scare me away if it went past two seasons. While I would have no issue with going as high as $15 - $16 million AAV the Yankees need to find a way to keep the years down, outright or creatively.
New York could always throw in vesting options, club options, mutual options, incentives, or whatever to make McCarthy happy but I hope the Yankees don't fall for the two month trap and over pay once again. McCarthy has been great on the mound, off the field, on Twitter, and his wife has been a much needed addition to the Wives and Girlfriends section of the site, but New York wants a ring. That is made even harder if they have an AAV of $15 million sitting on the DL with two or three more years on his deal and another stress fracture in his throwing shoulder.
Sign the man up for 2015 and beyond, just be smart about it.