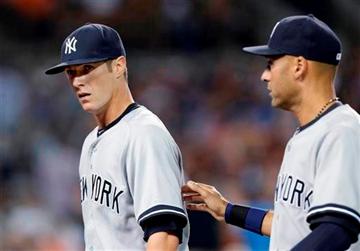 Welcome to September baseball Yankees family as New York finishes off the final month of the 2014 season by hosting a three game series with the Boston Red Sox. The Yankees will send Shane Greene to the mound to face off with the Red Sox Joe Kelly. The game will be played at 7:05 pm ET and can be seen on the YES Network, MLB Network, MLB TV, and can be heard on the radio with John Sterling and Suzyn Waldman on WFAN.
Greene is coming off a start in which he pitched seven masterful innings allowing just two runs against the Detroit Tigers. Greene has definitely made himself a household name in Yankees fans homes and has made a strong case for the 2015 starting rotation.
Kelly has only pitched 15 innings and has an 0-1 record with a 5.40 ERA and 12 K's in his last three starts. Kelly has pitched a total of 63 innings this season and has a 2-3 record with a 4.14 ERA on the season as Boston continues their youth movement in 2014.
Get your Yankees tickets for tonight's game with the Red Sox right here on the blog without all the annoying fees or shipping costs associated with the purchase. We're also less than a week away from Derek Jeter Day at Yankee Stadium as the Yankee captain's season and career comes to an end.
Go Yankees!!