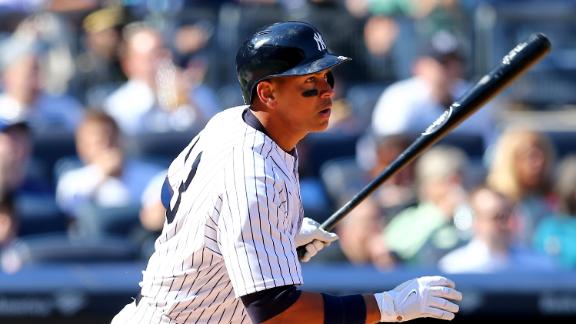 Earlier in the day I put my thoughts onto paper concerning Masahiro Tanaka's first start for the 2015 season so I figured I would do the same for Alex Rodriguez before Game Two starts tonight in the Bronx. We all knew that Alex's plate discipline and his vision at the plate was not affected by the hip surgery, the suspension and the long layoff but what we did not know was how the opposing pitchers would attack him at the plate. After spring training and one game in the books I think we have at least a general idea of what Rodriguez should expect and what we should expect from A Rod in 2015.
The Toronto Blue Jays surprisingly showed a lot of respect to Alex while he was at the plate in Monday afternoon's game, something I don't think any of us saw coming. I don't mean respect in the fact that they didn't try and plunk him and make him "pay" for his mistakes he has already paid for, Ryan Dempster is still a word that rhymes with wussy, but respect in the pitch selection to Rodriguez. They didn't give Rodriguez much to hit and the single he hit off Hutchison was when he was tiring and left a ball over the plate after the catcher set up inside.
The pitchers attacked Alex inside and Alex like the veteran that he is didn't try and do too much. Alex seems quite content with taking his walks and keeping the line moving for the team, aka being a team player and doing whatever it takes to win. Alex doesn't seem like he's necessarily shooting for individual stats or rushing to collect his $6 million bonus for tying Willie Mays on the all-time home run list but again, it's just been one game.
I will also say, and end with this, I was very impressed and humbled by the Yankees fans on Monday. Some boo'd Alex but the vast majority of the fans cheered the Yankees DH. I saw signs based off Bald Vinny's "FORG1V3" shirt and it really made me smile to see the Yankees family getting behind Alex. Alex needs your support because he truly is his biggest and toughest critic, as hard as that is to believe, and will benefit none from hearing the Boo Birds this season. Cheer Alex and cheer for the Yankees because I think, again just after one game, that Alex may be a lot better than many of you would have thought.