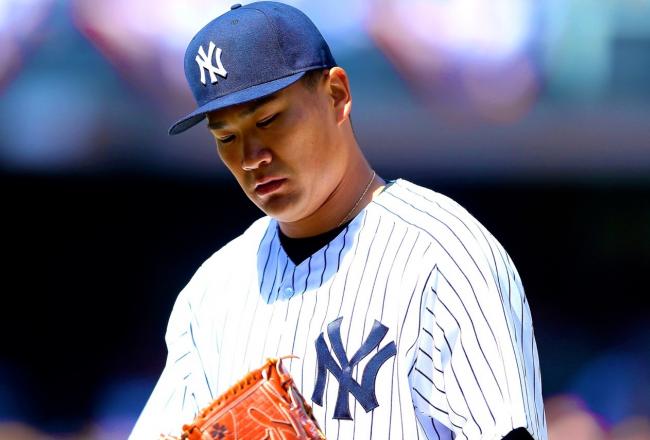 The New York Yankees conveniently took the day off yesterday giving me the time to collect myself and collect my thoughts after game one of the 2015 season. By no means am I basing really anything off of just one game in a 162 game marathon but I did see enough to at least throw some of my thoughts onto paper before Game Two kicks off tonight in the Bronx. Let's start with Masahiro Tanaka and his 4 IP, 6 K and 5 R (4 ER) effort from Opening Day.
Tanaka looked absolutely filthy through the first two innings, enough so that I attempted to get "TanaKa" trending on Twitter. He was moving the ball up and down, left and right and making hitters look absolutely silly. His velocity was down as expected but when your off speed stuff is as good as his was through the first two innings you really don't need 95 MPH on your heat. Then the third inning came and Tanaka lost control of his slider while the Blue Jays simply laid off of his splitter. Tanaka just didn't seem to trust his stuff and did not rear back and get that extra tick or two on the gun when he needed to which ultimately doomed him and the Yankees in this contest.
I don't think his elbow is the issue although I'm sure if you watched ESPN Monday night, Tuesday and if you watch until his next start their "experts" will tell you otherwise. Tanaka had four certified doctors including Dr. James Andrews tell him to rest and rehab the elbow ligament, he's not taking the advice of a fly by night physician. He may be a little hesitant to really open it up and see what it can do and what it can handle and ultimately he may not trust his stuff because of it but I truly believe the elbow is healthy. I could be wrong but I think with every start Tanaka gets under his belt he is going to get more confident in himself and more sure of his elbow and then, and only then, will we see the Tanaka we saw for the first 18 starts of the 2014 season.