Apparently I am feeling a bit nostalgic today as I have been posting 2013 highlight videos and already have one article revisit up this morning so why not another, right? In this article revisit I once again looked at what the Yankees would do if they lost Andy Pettitte, Alex Rodriguez, Derek Jeter, Mariano Rivera, and Robinson Cano in the same offseason,
article SEEN HERE
, and it looks like we almost got that scenario down. I feel obligated to re-post as I mentioned quite a few names on here that the Yankees actually got thus cementing the fact that a combination of Brian Cashman, Hal Steinbrenner, and Randy Levine read my stuff.
Enjoy!
Imagining The Worst Case Scenario For 2014: Part 2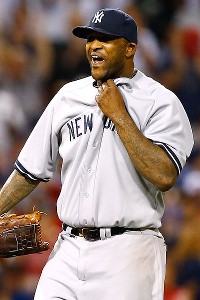 Let's start off with the pitching because I believe, and I cannot believe I am saying this, that this will be the easiest of the holes to plug this season. The Yankees will be without two of their starting pitchers and the greatest closer of all time the day the World Series ends and will have five days to offer all three of them a qualifying offer. Now like I said Mariano Rivera is going to retire and so is Andy Pettitte and Hiroki Kuroda is either going to come back, jump ship to the Los Angeles Dodgers, or go back home to finish his career in Japan so how do we rebuild and retool? The Yankees pencil in a starting rotation that looks something like CC Sabathia, Michael Pineda, Ivan Nova, Vidal Nuno, and David Phelps in no particular order and that is not going to fly with the fans or in the American League East. The Yankees will add at least one veteran to the fold and I have a couple guys in mind in Hiroki Kuroda, the obvious choice regardless of running out of steam in August and September now two years in a row, or Matt Garza. The Yankee also need to at least make a run at Masahiro Tanaka and exorcise the demons left by Kei Igawa and Hideki Irabu.
It is never a good recipe for success if you have to rebuild the entire left side of your infield in one off season especially if you have to also replace your second basemen in the same off season. With the loss of these three infielders the Yankees would take a huge hit not only on the offensive side but the defensive side as well. The Yankees problem is only compounded because of the lack of suitable replacements already on the roster after lackluster years from David Adams, Eduardo Nunez, Jayson Nix, and Corban Joseph to name a few. The Yankees, in my opinion, should go after a mixture of youth along with veteran leadership with a little bit of versatility sprinkled in. Enter Michael Young, Kelly Johnson, Mark Reynolds, and Brendan Ryan.
This year the ONLY good short stop we had was Brendan Ryan, I hate to say that but it is true, and I see no reason why he cannot be back in 2014. Sure we are sacrificing offense for defense but we have a few other positions that I will touch on in a minute that can be upgraded and hide this automatic out.
Michael Young can play all over the infield, is a good right handed bat, and would be the perfect fit for the Yankees. He could play second base one day, third base the next, and really give the Yankees some options to mix and match with someone like a Mark Reynolds. Reynolds has done well this season with a little reported help from Kevin Long and if he is willing to come back on a reduced role then he absolutely has a spot on my field and on my bench.
Enter Kelly Johnson the man that nobody wants to be, the man that essentially replaces Robinson Cano. While looking at potential second basemen I wanted to look at guys who could hit for a little power and not be a huge loss defensively at second and the guy that stood out was Johnson. Kelly has the potential to put up 20 home runs in a season, maybe more as a left handed batter in Yankees Stadium, with a batting average around .275 for about $25,000,000 less than Robinson Cano will probably get in 2014. That is all without mentioning that Johnson has had a positive WAR every season he has been in the majors, he is taken away from the rival Tampa Bay Rays, and has experience playing second base, left field, third base, first base, and other outfield positions in his career. Signing Johnson allows him to move all over the field and significantly lessens the loss of Robinson Cano with a healthy and productive season, and please notice I did not say replace Robinson Cano because NOBODY is replacing Cano.
The Yankees need to get the most out of every single player at every single position to make up for these deficiencies and that is where I begin my navigation this off season. I refuse to sugar coat it because I simply cannot sugar coat it, our catchers sucked this year after Francisco Cervelli wen't down with a right hand injury. I am not convinced that Cervelli's production this year was caused by any kind of illegal substances, although I could be wrong, but I am not quite sure we want the guy around anyway with the media circus that is sure to follow. I would explore a trade for Cervelli but ultimately I see Cervelli simply released and let go while we keep Austin Romine for the back up catcher position.
I know you are waiting for the upgrade here so enter Brian McCann who I personally think we can get four or five good years out of giving the likes of Gary Sanchez plenty of time behind the dish to develop. McCann's left handed swing is made for Yankees Stadium and he is no slouch behind the plate or at controlling the running game. Between a mixture of former catcher Joe Girardi and Yankees hitting coach Kevin Long I think we may see more of the younger version of Brian McCann more than the catcher slowly trotting out of his prime. This would obviously be plan number one and the biggest upgrade that we could make at the catcher position and offensively. Oh and you noticed I did not mention Chris Stewart here? Eff Chris Stewart!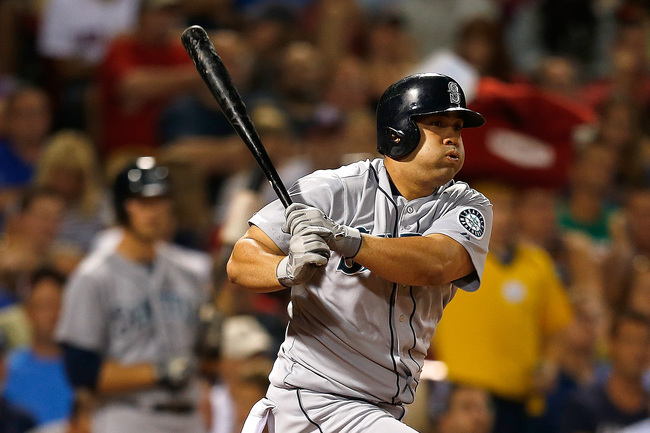 The Yankees are going to need a ton of production out of their designated hitter position this year and cannot afford a DH only type like we did with Travis Hafner this season and Raul Ibanez last season. What we need is someone who can smash the ball but also give the outfield guys a nice rotation so we are not over using the likes of Brett Gardner and Alfonso Soriano. What I present is two options that can do that, obviously one more so than the other, in Kendrys Morales and Cuban defector Jose Dariel Abreu. Both Morales and Abreu can fill in time at first base giving Mark Teixeira a day off or can be "full time" DH positional players and coincidentally are both made from the same mold. Obviously Morales is the more complete player and has less question marks that come with him so he would be the obvious choice here but Abreu and his youth and young bat and legs would not be a bad addition either, low average and strike outs and all. If we did not get one of these two players for the DH spot I think we would be in a ton of trouble offensively next season so I would make this near the top of my priority list.
The Yankees searched for an outfielder all season long in 2013 before finally pulling the trigger on a trade with the Chicago Cubs bringing Alfonso Soriano back home to the Bronx. The outfield may actually be "set" with little wiggle room and flexibility to make any moves and improvements. Soriano is going to be your Opening Day let fielder, Brett Gardner is your lead off man and center fielder, and some sort of combination of Ichiro Suzuki, Vernon Wells, and Zoilo Almonte will seemingly man right field.
The Yankees could conceivably simply cut Vernon Wells for a $0 luxury tax hit if we think a Jacoby Ellsbury, Mike Morse, Rajai Davis, Curtis Granderson, Shin-Soo Choo, Corey Hart, or Nelson Cruz type could be an upgrade.
While Davis is a big stolen base threat, Choo hits righties well but is dismal against south paws, Ellsbury is considered injury prone and has been sucked of all his power the last couple of years, Cruz should come cheap coming off a steroid suspension and Hart as well coming off of an injury, why not just bring back Curtis Granderson? Granderson missed a huge chunk of the 2013 season due to bad luck injuries, hit by pitch injuries, and should come cheaper than a qualifying offer on a one or two year deal which is perfect for the Yankees. He is going to strike out a ton and will probably never hit for a huge average but it is hard to shy away from 40+ home run power on a suddenly offensively anemic team. Zoilo would simply replace Wells on the depth chart and would add versatility with added speed, young legs, and a switch hitter into the lineup.
Here is what the roster would look like after this retool and rebuild:
C: Brian McCann
1B: Mark Teixeira
2B: Kelly Johnson
SS: Brendan Ryan
3B: Michael Young
LF: Alfonso Soriano
CF: Brett Gardner
RF: Ichiro Suzuki
DH: Kendrys Morales/Jose Abreu
BN: Austin Romine
BN: Zoilo Almonte
BN: Eduardo Nunez
BN: Mark Reynolds
SP: CC Sabathia
SP: Ivan Nova
SP: Michael Pineda
SP: David Phelps
SP: Hiroki Kuroda/ Masahiro Tanaka/ Matt Garza
CP: David Robertson
SU: Shawn Kelley
RP: Cesar Cabral
RP: Preston Claiborne
RP: Dellin Betances
RP: Vidal Nuno
LR: David Huff/ David Phelps
With these additions and moves I think the Yankees can be just as good, if not better, than the 2013 version we are watching right now. I know that most of you reading this will not be happy with another 89-92 win team in 2014 but you have to remember the hypothetical that we lose Derek Jeter, Robinson Cano, Mariano Rivera, Andy Pettitte, and Alex Rodriguez. Also you have to remember that the team can look a whole lot different on August 1st then it did on April 1st. Speaking of that whole July 31st and August 31st trading deadline...
To be continued....