Here is an article revisit from just a couple weeks ago on November, 24 about how Robinson Cano was set to be the next $300 million man, just for somebody else
SEEN HERE
. Well while Cano only got $240 million from the Seattle Mariners the premise of the post remains the same. I kind of feel like a prophet, yes I am being semi-sarcastic, as I wrote a post back in September before Andy Pettitte announced his retirement laying out a plan for our worst case scenario that if Andy, Mariano Rivera Pettitte, and Derek Jeter retired along with Cano walking away in free agency and Alex Rodriguez being suspended.
PART 1
,
PART 2
, and
PART 3
laid out a plan that included signing Brian McCann, Kelly Johnson, Curtis Granderson (whoops), and bulking up the pitching staff. Sound familiar?
Here is the article:
The more and more I read about this debacle that is going to be the New York Yankees and Robinson Cano negotiating thing the more I am thinking that we should just let Cano get his way and get his $300 million 10 year contract, with someone else.
Think of it this way is Robbie ever going to be able to live up to that kind of contract, probably not, and he is going to be vilified for holding out and being greedy, something we can appreciate here. Cano thought he was doing good putting Jay Z on the map as a sports agent but in reality, if this remains on the same path that it has been on, Mr. Shawn Carter is simply going to bring Cano down with him. I already hear the clamoring from Yankees fans on Twitter to simply let Cano go and spend that money elsewhere and it got me thinking that the Yankees would probably be better off if Cano left anyway to be honest. Let's put this is dollar terms because most people understand those the best, Robinson Cano wants 10 years and $300 million to be a lifetime Yankees player. What could the Yankees do with $300 million to improve the team if they did not have Cano in the fold for 2014 and beyond you ask? Let's look…
Obviously the first question is who would replace Cano on the roster at second base, take your pick. We have been interested in Stephen Drew, Jhonny Peralta, Omar Infante, Kelly Johnson, we could trade for Dan Uggla on the cheap, the options are plenty. None of them will be as good as Cano but none of them, outside of probably Drew, will cost more than $20-$25 million on a short term deal in my opinion. The Braves are willing to eat a ton of salary off of Uggla's contract to get him moved and would require very little in terms of prospects to acquire him. Uggla seems like the type of trade that the Yankees and Brian Cashman specialize in and usually win taking on salary for prospects that I, a self-professed "prospect humper," have never even heard of or know about. Omar Infante would be nice because he hit's for a great average and has a nice glove to go with it but as a Plan B if the Yankees are willing to look at a Raul Ibanez return simply for some pop in the lineup then Dan Uggla would suit us just fine in Yankee Stadium.
Running tally - $25 million for Infante/Peralta and around $10 million for Uggla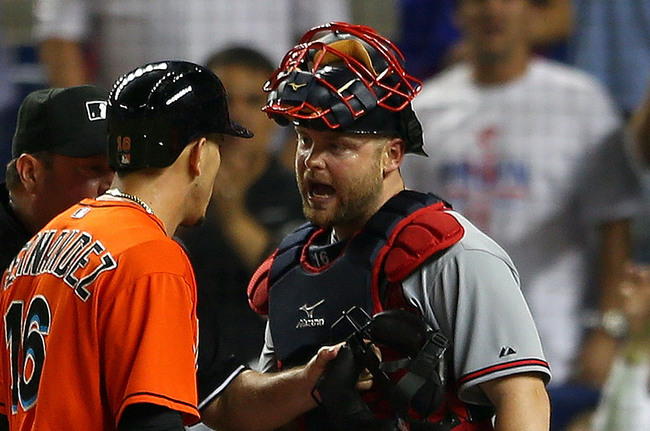 *note - this was written and scheduled before McCann signed for $85-$100 million last night*
If the Yankees take less production at second base then they will have to upgrade elsewhere to make up for it and why not start where we had our worst production in 2013, the catcher position. Enter Brian McCann and ignore the rumors that McCann is getting $100 million because he isn't. When are people going to learn that free agents ask for the moon at the beginning of free agency, teams low ball, and they generally meet in the middle. NO ONE is going to give McCann $100 million on the wrong side of 30 coming off of multiple years of injuries, NOBODY. The Yankees could get him somewhere in the range of five years and $75-$80 million, not that I want it to go that high and for that many years but I am trying to be realistic, and give guys like Gary Sanchez plenty of time to develop in the minors and gives us the opportunity to DH McCann in years four and five.
Running tally - $105 million
The Yankees got crap for production out of third base last year as well before the return of Alex Rodriguez, and this is assuming that he is suspended for most or all of the 2013 season, so why not make that out next priority? Enter Jhonny Peralta who we learned is seeking a four or five year deal in the $56-$75 million dollar range. Peralta has had up and down numbers over his career, especially recently, but can play both the shortstop position and the third base position which adds depth and versatility. Peralta has the potential to hit 20+ home runs, and did in big stadiums like the one in Detroit, and can hit at the top, in the middle, or at the bottom of a lineup. If the Yankees need a substantial upgrade from their 2013 production then the man from Detroit, Biogenesis ties or not, should be our man.
Running tally – $180 million
The Yankees need a big shot in the arm in right field because the Vernon Wells and Ichiro Suzuki duo is not going to cut it. What we need is a guy like Corey Hart or even Carlos Beltran If he comes off his high horse named "four year deal" at age 37. Hart and Beltran are scary identical when you look at their stats the last three or so years, obviously not counting Hart's lost 2013 season, and when you look at their games and their baggage they are similar as well. Both have concerns with knee issues and a history of injuries, both play right field although Hart could fill in at first base and give the Yankees the opportunity to rotate their outfield again like they did last year, and both should be signing shorter term deals. The difference between the two is money as Beltran will probably receive a $15 million AAV over the course of his contract where I believe we could get Hart for somewhere around $8 million AAV. I would even be willing to go two years on Hart if that was what kept him from returning to Milwaukee in 2014.
Running tally - $188 million
The pitching is going to be the straw that breaks the camel's back and either makes us or breaks us in 2014. Enter Masahiro Tanaka who, not counting the posting fee, is going to cost in upwards of $75 – $90 million. There is no way Tanaka is going to go back to Japan for 2014 and it may take a while, much longer then we expected, but he will be posted ultimately at the end of the day. With teams like the Texas Rangers spending big money and posting themselves out of the Tanaka sweepstakes it can only be good news for us the longer we can be patient.
The Yankees are looking for two pitchers and, for the sake of keeping these numbers under the $300 million that Cano is asking for, my thought process is the Yankees will have to sign a Kuroda type one year veteran deal to shore up the rotation. Enter Roy Halladay who not so long ago was the best pitcher in the world. He did not look like himself for much of last year but seemed to get better with every start and stronger with every start which I think is important. I think on a one year deal in the neighborhood of $10 million gets the job done and gets us an absolute steal and upgrade for the rotation.
Running tally with Tanaka- $278 million
Running tally with Roy Halladay- $288 million
So for the low low price of $288 million we could improve our team in five or so different areas as opposed to giving Robinson Cano a mega deal that does not improve us whatsoever over the 85 win team that we all saw in 2013. That also gives you an extra $12 million to throw Joe Nathan's way if you are silly enough to believe that David Robertson is not ready to replace Mariano Rivera as the Yankees closer.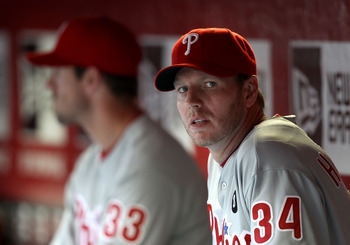 Take a look at the rotation and the starting lineup we would throw out there as well:
The longer this goes on and the longer that this drags out the more I believe that Robby Cano is going to be the next $300 million man, just not for us.